In the era of content marketing, everybody is speaking about an importance of a content. Well, every presentation is based on some kind of content – whether you are talking about industry-specific topics or discussing business and marketing related questions.
The question is how to illustrate a content idea in a proper way in your document? Doesn't matter if it's a PowerPoint presentation, blog article or any kind of report.
Adding a visual symbol presenting a content, representing an idea of what you are talking about helps you make your slides more engaging and remembered.
How to Represent Content in a Presentation?
Today content usually appears as a complex concept. That is the reason why traditional ways to exchange it among people are probably not sufficient anymore. Using mainly text and numbers instead of more interesting visualizations does not fit the requirements of our fast moving lifestyle . That is why being able to illustrate the concept of content is pretty important.
Visual Metaphors for Content – Modern and Neutral
For style-neutral graphics fitting to any presentation style, you can use a flat presentation icons like the ones below.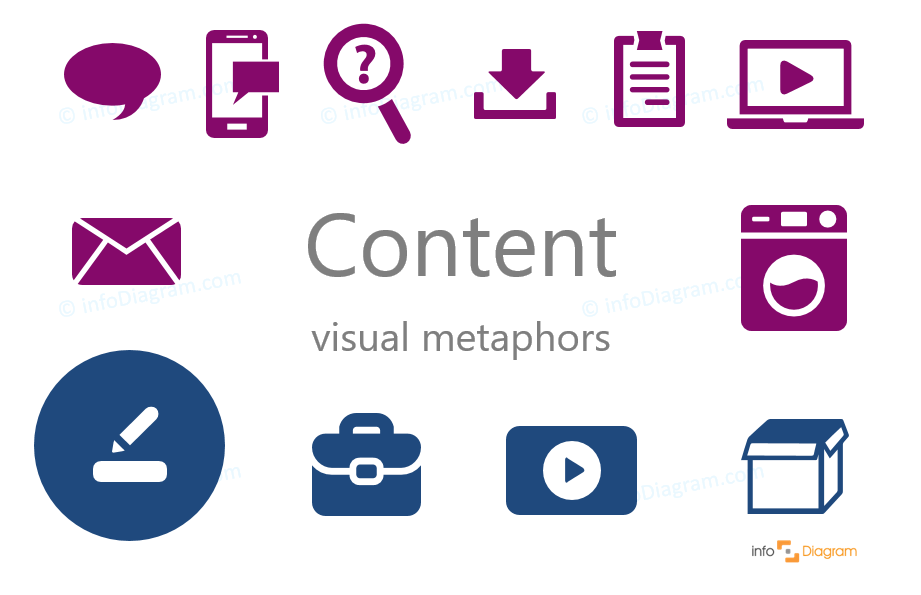 Ideas for pictures representing a content concept:
For Creative Style – Unique Hand Drawn Risk Symbols
If you want your presentation to be more outstanding, get informal. Go for a creative hand drawn symbols. Such style is more personal and unique.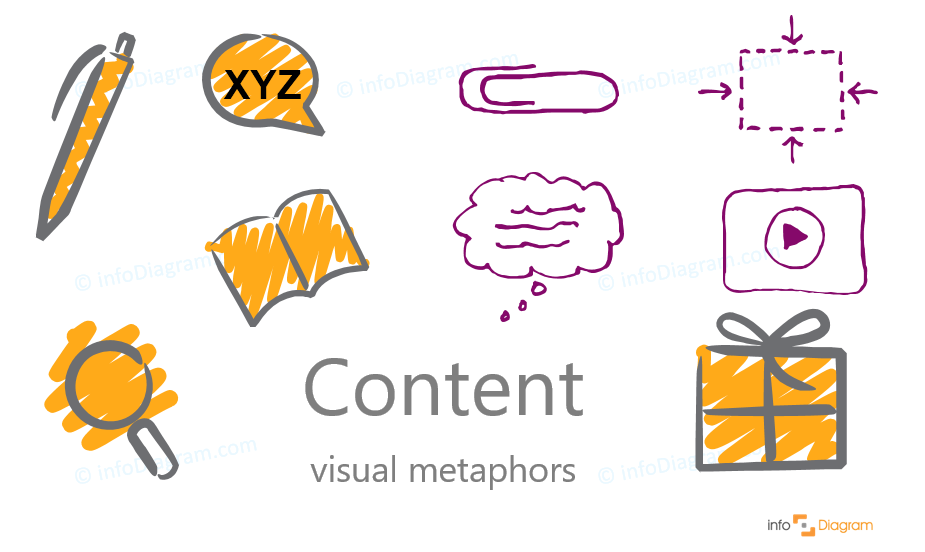 The diagrams are all sketch-inspired and hand made by infoDiagram designers. Here are icons you can use speaking about content:
We hope you found some inspiration for your presentation here.
Do you have another idea you want to illustrate in your document? Let us know in the comments below. We'd love to hear back from you.
Further reading
Check more our articles on designing creative presentations. See all articles Showing a Business Concept in a Presentation or explore specific topics:
Further Inspirations
Need to show another concept in a presentation? See how to illustrate other business concepts – Digital, Strategy, Investment, Deadline and more.
---
---
Stay updated
Get new presentation ideas and updates sent directly to you! Plus, if you sign up for our free newsletter now, you'll receive a Creative Slide Design Guide with our handcrafted freebie – hand drawn icons you can start using right now.
How to get a specific concept icon for your PowerPoint presentation?
To get access to editable PowerPoint icons from those examples, consider an infoDiagram subscription access to PPT graphics. With a subscription, you can access all the symbols in our PowerPoint icons library, with a few thousands of symbols. We are regularly adding new ones.