The concept of knowledge or education appears in various places in presentations. You may have a presentation section about teaching and onboarding new team members. Or you mention education as one of your points. The whole e-learning is about passing the knowledge. Or maybe you're a trainer or teacher – when every presentation you do is about wisdom. Adding a visual symbol presenting knowledge, representing an idea of wisdom helps you make your slides more engaging and remembered.
The question is how to illustrate knowledge, wisdom or education in a proper way in a PowerPoint presentation.
(this post os a part of concept visualization ideas series – see the full list here: One picture to rule them – Visual Metaphors Ideas library)
How to Represent Knowledge in a Presentation?
Time gets a rare resource but is needed to communicate the more and more complex knowledge. That is the reason why traditional ways to exchange knowledge among people are probably not sufficient anymore. Using mainly text and numbers instead of proper visualizations does not fit the requirements of our knowledge society today. That is why being able to illustrate the concept of knowledge is essential.
Modern Flat Visual Metaphors for Knowledge
Check icon ideas from flat icons collection – suitable for style-neutral graphics fitting to any presentation style: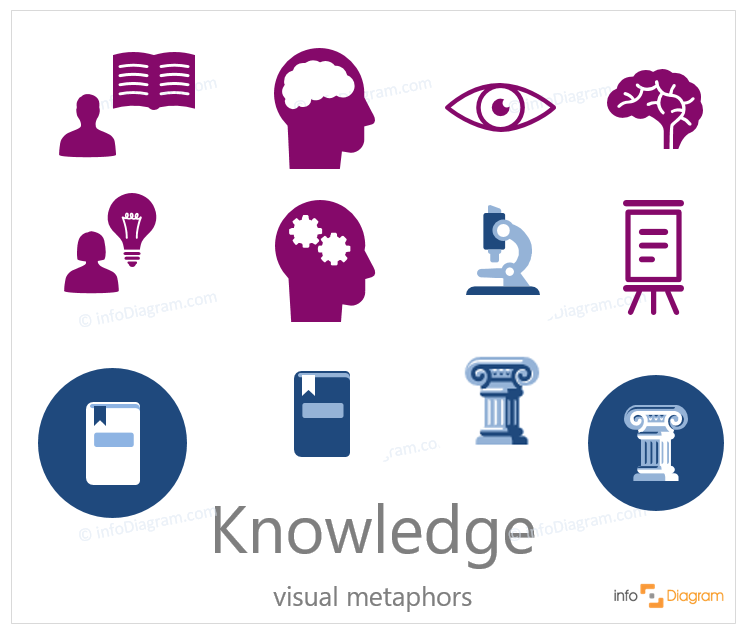 Personal Creative Knowledge and Education Symbols
If rather than sleek and modern, your presented message or audience would benefit from a different approach, our creative hand drawn symbols have a less formal tone and can help you reach a broader audience. The diagrams are all sketch-inspired and handmade by infoDiagram designers. Here are icons you can use in a presentation about knowledge: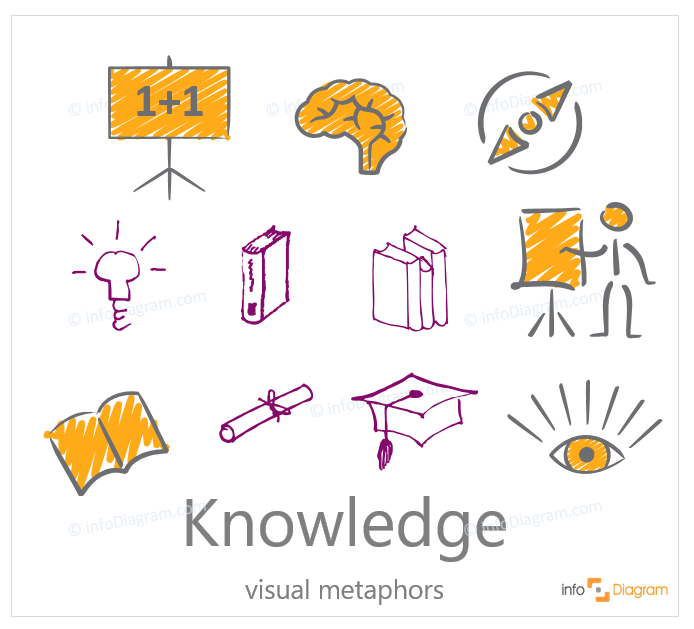 Whatever you choose, select icons, which will speak to your audience and be memorable. You know your viewers better than anyone!
Do you have another idea you want to illustrate in your document? Let me know in the comments below. I'd love to hear back from you.
More Reading
Need more resources for designing creative, effective presentations? See all articles Showing a Business Concept in a Presentation or explore specific topics:
Further Inspirations of Presenting Abstract Business Concepts
Need to show another concept in a presentation? See how to illustrate other business concepts  – Novelty and Innovation, Strategy, Investment and more.
---
---
Stay updated
Get new presentation ideas and updates sent directly to you! Plus, if you sign up for our free newsletter now, you'll receive a Creative slide design guide for free, as well as hand-drawn shapes you can start using right now.
How to get a specific concept icon for your PowerPoint presentation?
To get access to editable PowerPoint icons from those examples, consider an infoDiagram subscription access to PPT graphics. With a subscription, you can access all the symbols in our PowerPoint icons library, with a few thousands of symbols. We are regularly adding new ones.