Many of us have heard of the marketing mix and 4P's, but is it so crucial to understanding the model all marketers are talking about? Today we'll try to figure out why we need this particular analysis while creating new products and pushing them into new markets or maybe we don't need it so much and our companies can still exist without digging deeply into it.
Firstly, let's get to the definition of the marketing mix. It is pretty simple. Putting the right product in the right place, at the right price, at the right time.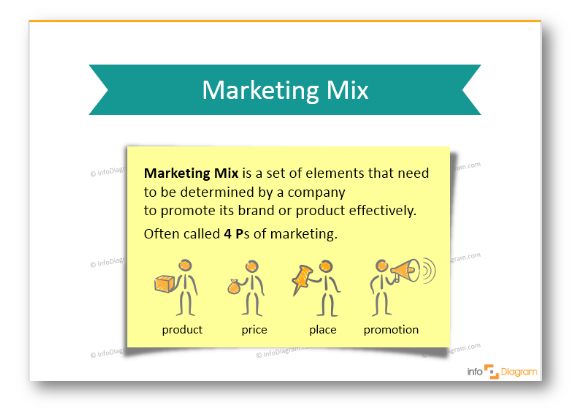 It sounds obvious, doesn't it? You just need to create a product that your target audience wants, put it on sale at a place that those same people visit regularly, and put a price at a level that matches the value they feel they get out of it; and do all that at a time they want to buy. Then you've got it made! The difficult part (as you could already understand) is doing this well, as you need to know about every aspect of your business plan.
Understanding the 4P's
The marketing mix is a good place to start when you are thinking through your plans for a product or service, and it helps you avoid mistakes, that can cost you a bunch of money and time. Okay, let's open the curtain and understand a magical 4P formula.
While marketing their products companies need to create a successful mix of:
the right product
sold at the right price
in the right place
using the most suitable promotion.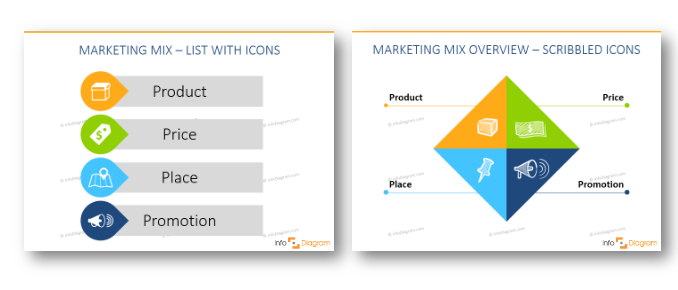 Unique Product or Service
The first of the Four Ps of marketing is a product. A product can be either a good or a service that fulfills a need of consumers. Whether you sell custom pallets and wood products or provide luxury accommodations, you must have a clear grasp of exactly what your product is and what makes it unique before you can successfully market it.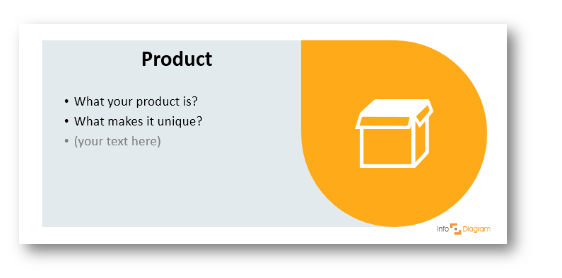 Price Strategy
Once a concrete understanding of the product offering is established we can start making some pricing decisions. Price determinations will impact profit margins, supply, demand, and marketing strategy. Pricing helps shape the perception of your product in consumers' eyes. Always remember that a low price usually means an inferior good in the consumers' eyes as they compare your good to a competitor.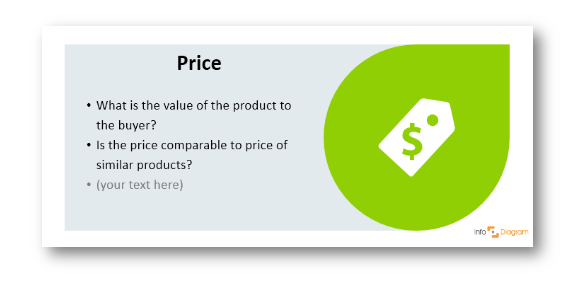 Placement and Distribution
Often you will hear marketers saying that marketing is about putting the right product, at the right price, at the right place, at the right time. It's critical then, to evaluate what the ideal locations are to turn potential clients into actual clients. Today, even in situations where the actual transaction doesn't happen on the web, the initial place potential clients are engaged and converted is online.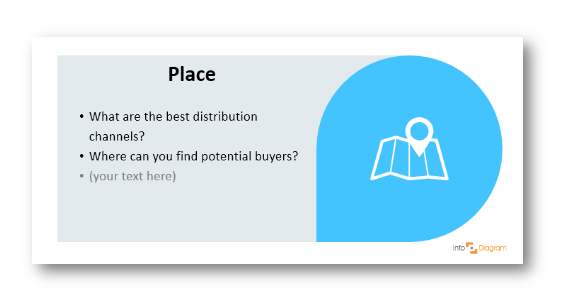 Promotional Activities
Last, but not least. We've got a product and a price in the right place, so now it's time to promote it. Promotion includes the following elements: advertising, public relations, social media marketing, email marketing, search engine marketing, video marketing, and more. Each touchpoint must be supported by a well-positioned brand to truly maximize return on investment.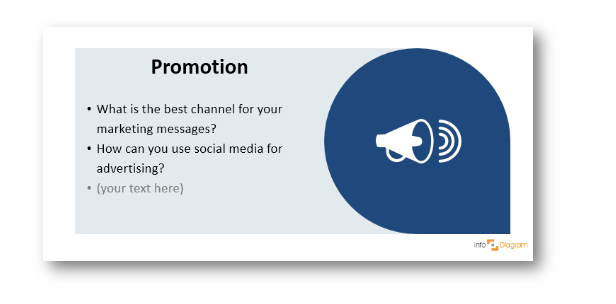 As the four Ps all need to be considered in relation to each other, it doesn't really matter in what order you define them. The model can be used to help you decide how to take a new offer to a market. It can also be used to test your existing marketing strategy.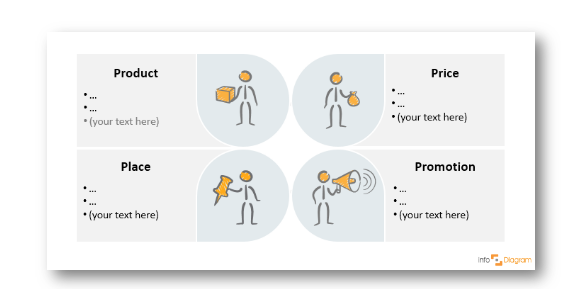 So what do we have so far? 4Ps of Marketing is one of the best-known models, which helps you define your marketing options in terms of product, place, price and promotion. The model can be used when you are planning a new venture or evaluating an existing offer, to optimize the impact on your target market. Read here how to use the 4Ps of Marketing.
All graphics are made using Marketing Mix PPT template, see it by clicking on any picture. Set contains extendable pictogram symbols of a 4P model in two graphical styles:
To make your slides stand out we invite you to check our 'How It Works' page or demo presentation at Slideshare:
Download marketing mix ppt graphics collection here:
See Marketing Mix Diagrams Set
Further Reading
Need more resources for designing creative, effective presentations? See all articles and explore specific topics: