Are you making a presentation for a management or HR meeting? Or an important report, where you need to include a part about communication within the organization? In this blog, you'll find a bunch of visualization ideas for presenting people management and communication concepts.
Why it's better to present using visual symbols?
As the saying goes, a picture is worth a thousand words. We all are aware of it. I know, it's easier and faster to write a text about communication flow in a company than to prepare a visual diagram or search for proper symbols.
However, if you want your presentation slides to be catchy and readable, using visuals is the way to go. To name a few benefits of adding visual symbols to :
using consistent visuals gives the professional look to your documents (let's assume you will not use cliche pictures of gears or 3D stickmen, but some modern images).
illustrating the specific key concepts with icons in your report will help your audience focus on important parts.
the presentation or article will be easy to read.
Get all the icons and diagrams from Outline Business Icons for the infographics collection.
Ideas for Interpersonal Communication, HR, and People Management Images
Let's have a look at the visual symbols we use to illustrate organizational management and communication presentations.
We grouped the icons into four groups:
customer care and teamwork: can be illustrated by several people together in a circle, or sitting around the table, a person with a small tree chart behind or hands and a person symbol
roles and professions: a person with a diamond as a symbol of value, a laptop icon with people around, and a person with a box
interpersonal communication: ideas exchange – two people talking, two people with arrows in between, and a person with a speaker
communicating the message: except for standard speech bubbles you can use various modifications of them as well as small quotes to show conversation or question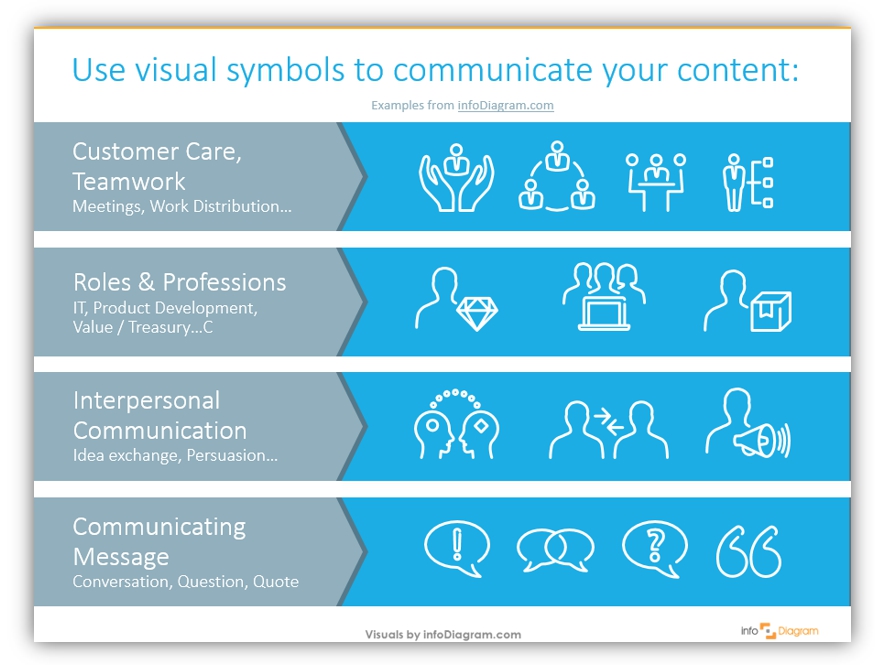 By the way, notice how we illustrated this list by kind of visual agenda slide – maybe this will inspire you as well. We used a simple blue background and white icons, but you can modify them as you like. Just remember about consistency through a presentation:)
How we redesigned the In-person Communication slide
Yeah, I know using icons is a great idea. But how can you use them in practice? Let's see how we created the right slide below.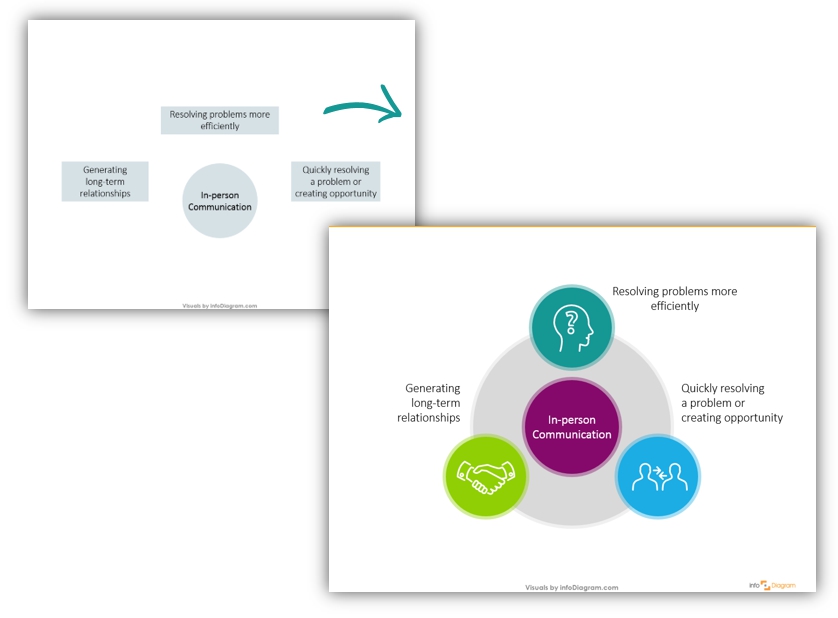 Here are three steps for making an eye-catching communication diagram (using the symbols mentioned above):
Replace bullet points with text in shapes to create a simple diagram. We used a circle in the center and rectangles for the three items around.

Change the colors of shapes and distribute them. We added a second central circle, where the three items of text can be made without background. To highlight the importance of the middle element, we added a colored circle in the middle.

The final touch is to add color circles with icons corresponding to the text and distribute them equally. When you choose a symbol to support your words, play with associations: long-term relationships as a handshake; resolving a problem – arrows between two people; efficient problem-solving – a head with a question mark.
Notice how we ensured design consistency – by using the same outline style for the central circle as well as for three icons.
Summing up the steps of changing a text slide to a modern diagram:
Replace bullet points with separate text in shapes
Recolor the shapes and distribute them to create a balanced layout
Add outline icons to make your slide look professional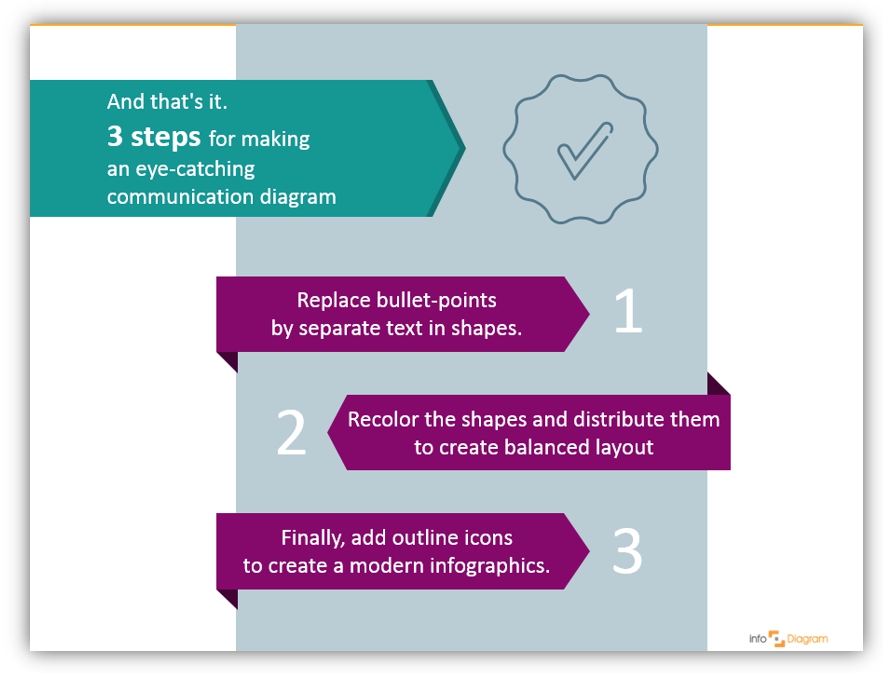 I hope this example of illustrating people management communication structures slide will inspire you to create more of such visual slides. Similarly, you can present human resource dependencies or information flows in your company.
Resources:
Should you need help with choosing or using the PowerPoint graphics, let us know here. We will gladly assist.