If you need to illustrate the financial technology concept, online banking applications, etc, check the fintech concept blog to get inspired by some new ideas. Use the fintech concept icons in your finance website or mobile apps to entice users to click through. 
If you are struggling to choose appropriate symbols to present fintech topics, take a look at our blog where we offer icon ideas in different styles.
Modern elegant outline symbols for presenting the FinTech concept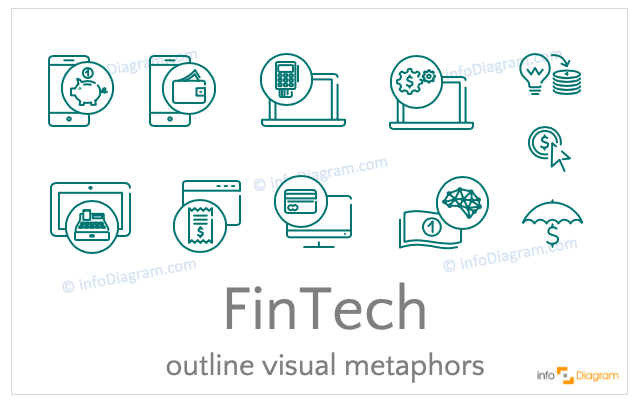 Above are icon examples in a modern outline style, that fits any presentation:
Design-neutral flat fintech concept icons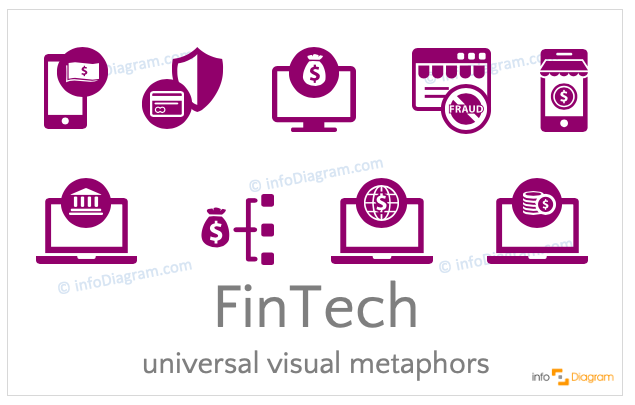 Those are icons designed with simplicity in mind. Such symbols can add an impact to your topic without distracting from the clarity of your message.
Below we suggest some flat fintech icons you can use, which can be helpful when presenting information related to financial education and investment resources:
cell phone with a dollar sign showing the process of online shopping 
laptop with a money sack icon presenting the topic of online investment 
shopping cart image on the laptop desktop as an E-commerce graphics
credit card illustration combined with shield presenting secure financial investments
computer item with coins pictogram
cell phone showing E-shopping possibilities
Creative unique hand-drawn fintech concept icons collection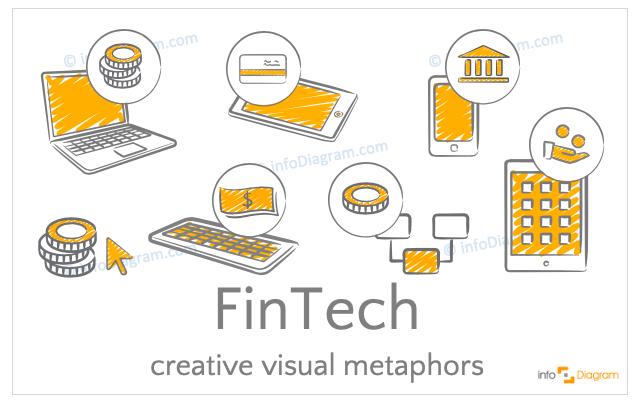 You can also consider hand-drawn scribble symbols to add a unique personalized touch to your presentation. Those are sketch-inspired graphical symbols that are perfect for adding a creative look to the PPT Symbols you can use:
keyboard device shaped with a dollar icon
laptop item with coins savings icons
tablet gadget illustrated with the credit card as a new online shopping trend
shopping cart icon combined with cell phone symbol as a fast way of online shopping
tablet with a sign of hand highlighting online savings
coins as a payment method
a financial process designed with a coin symbol
We hope you find some inspiration from those icon ideas to express the concept of Fintech. What's your biggest presentation challenge? Let us know in the comments and we'll be happy to share our quick design advice.
If you like the suggested icons, you can get them from the infoDiagram library. The best way to get them is by joining subscription access to PPT graphics here. It will allow you to download these symbols, and graphics from any presentation deck you find on the website.
More concept icons ideas
Need to show another concept in a presentation? Leadership, Crisis, Status, Growth you name it. Check our blog Ultimate List of Business Concepts Visualization to get inspired.