Working in the human resources department of middle or bigger companies involves effectively communicating various HR processes, and analysing & presenting organizational structures. Explaining these rather complex HR concepts can be a lot easier when you use clear visuals.
For you, we've handpicked some recommendations of PowerPoint slide deck examples that can be a source of graphical inspiration for you.
You can get any example presented here as editable PPT files. Click on the slide pictures to see and download the source illustration. Check the full collection of Human Resources PowerPoint templates here.
Let's explore our selection of presentations covering the major HR management presentation topics:
HR Metrics Dashboards with PowerPoint Data Charts
Recruitment, Selection, and Hiring Processes
HR Talent Management Concepts
Employer Branding Essentials
Payroll, Compensation, and HR Administration
Company Organizational Structure Charts
Company Roles and Department Structure
Dashboard Template with HR Metrics PowerPoint Charts
Do you need to report HR-related KPI metrics in a clear presentation? Show it in the form of a dashboard presentation.
An HR dashboard is a presentation type that visually displays major key performance indicators on one or more slides. Check this HR Metrics Dashboard Data Charts PowerPoint template with places for displaying the KPI measures. For example: employee profiles, remuneration structure, skills, or satisfaction. There you can find slides for reporting employee performance and retention, as well as HR project status and progress.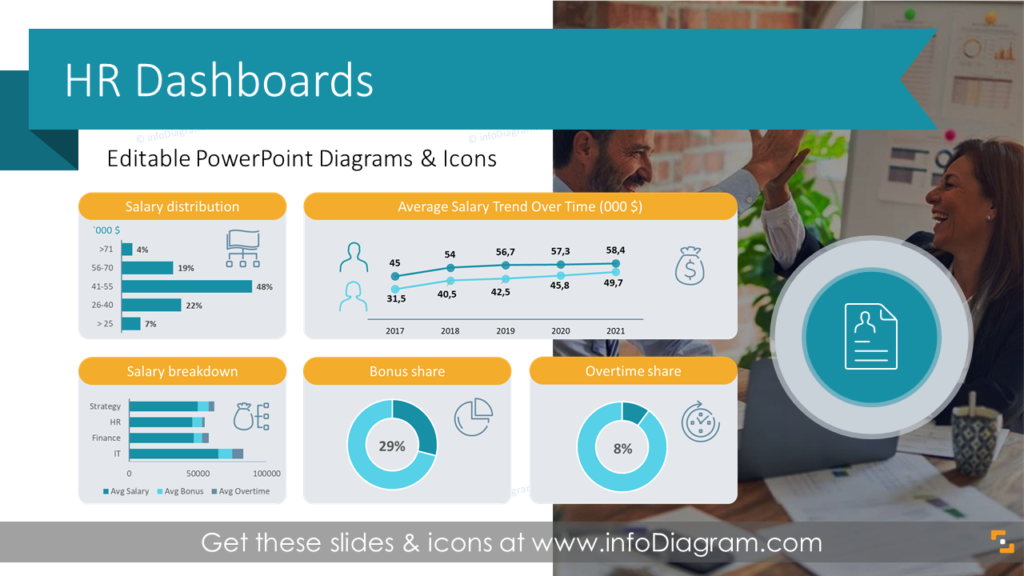 Where you can use those HR dashboards:
Presenting your employee skills matrix evaluating key competencies
Illustrate your recruitment & onboarding metrics
Visualize your remuneration changes year-over-year
Create your employee retention dashboard
Recruitment, Selection, and Hiring Processes PowerPoint HR Diagrams
If you want to present recruitment steps or the onboarding processes in a visually attractive format, then have a look at this set of Recruitment, Selection, and Hiring HR diagrams.
Using creative visuals for illustrating the steps to fill the job post helps you to communicate those processes to your peers.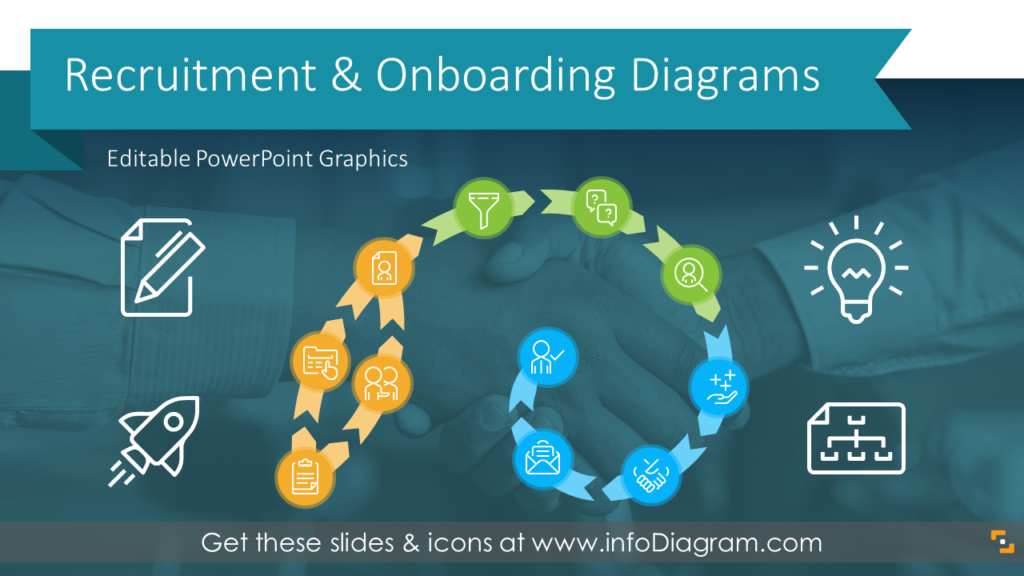 You can use these HR presentation graphics to:
Illustrate the overall process of hiring employees
Show the candidate selection roadmap
Visually compare hiring journeys with or without pre-onboarding
HR Diagrams for Presenting Talent Management Concepts
This is another HR area that can benefit from using a visual method of communication. If you need to present talent management processes, check this pre-designed HR Talent Management slide deck.
It includes layouts for presenting talent management definition, performance process cycle, and goal management from an organization and individual perspective, and more.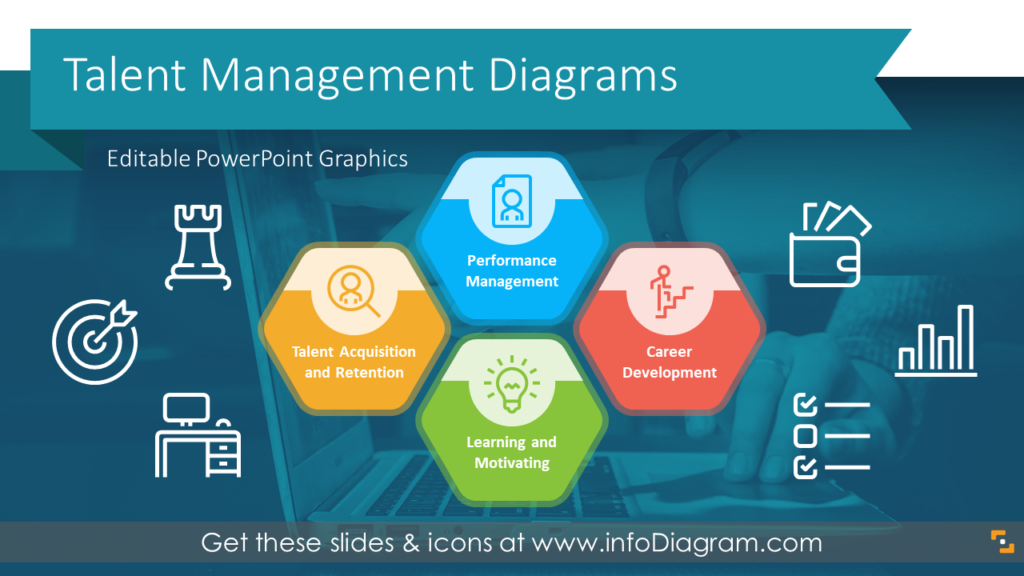 You can use it as a library of eye-catching diagram templates to explain HR concepts within your organization. Also, check our icon ideas to illustrate talent management, even 1 symbol can make a difference to your slide.
Employer Branding Essentials Presentation
If you are working with employer branding frameworks and roadmaps, explore this Employer Branding HR Process Diagrams PowerPoint template. It includes a dozen diagram slides to illustrate the process of employee life-cycle or employee value proposition.
A well-designed employer branding roadmap helps to implement relevant activities for improving the employer's image.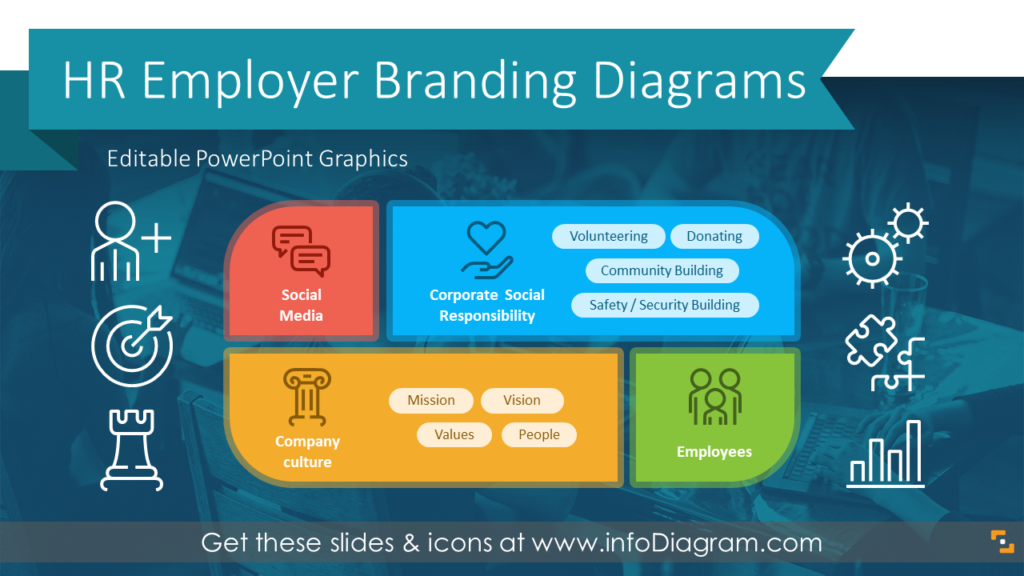 Examples of using Employer branding graphics:
Presenting employer branding framework areas
Showing employer branding stages
Visualizing employer EVP offerings (employee value propositions)
Payroll, Compensation, and HR Administration
Need to present a compensation and benefits scheme inside your organization?
Here's a Payroll, Compensation, and HR Admininistration PowerPoint library of slide graphics covering these topics.
There you can find editable diagrams illustrating benefits management, or salary determination and payroll processes.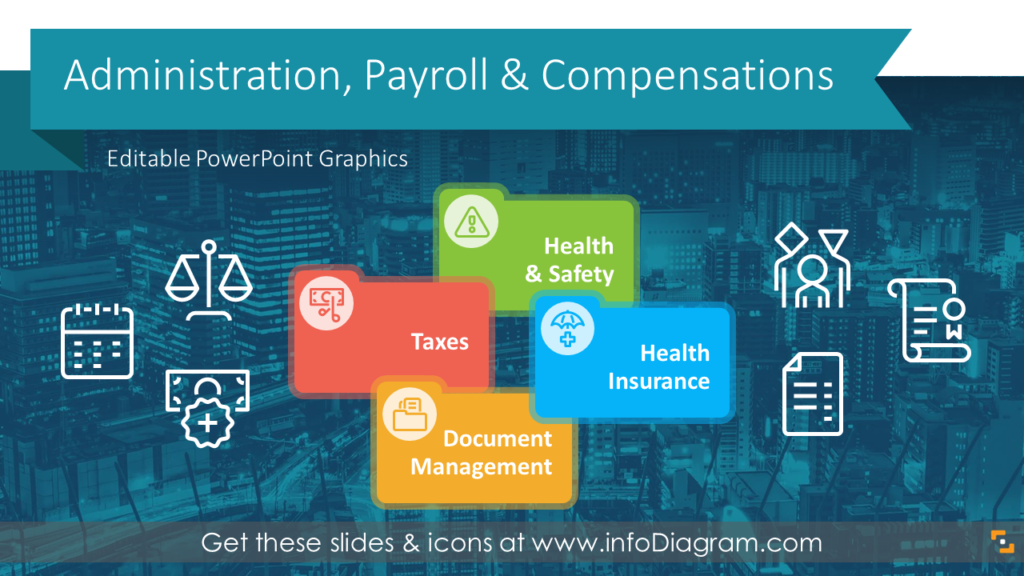 These HR diagrams can be used in a broad spectrum of contexts:
Presenting the scope of HR administration management
Showing and analyzing your company's compensation and benefits scheme
Describing your salary determination process
Visualizing stages of the payroll process
Template for Company Organizational Structure Charts
Do you need to quickly create a creative organization map in PowerPoint?
This Company Organizational Structure Charts slide deck includes company structure organograms as well as matrix management structures for several projects spanning multiple departments.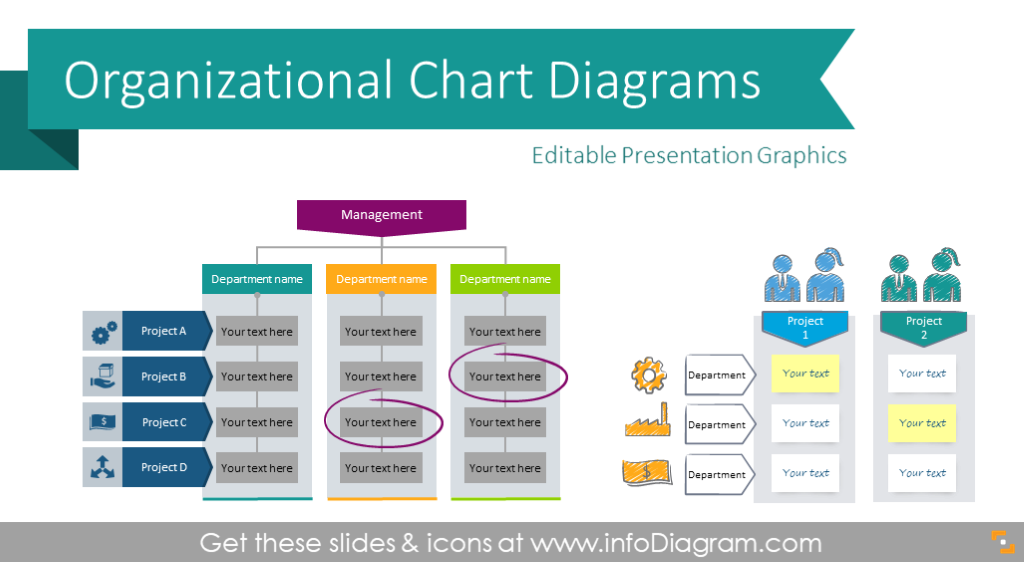 There are 16 pre-designed org charts editable in PowerPoint, for example:
Hierarchical organization charts with pictures of the CEO and department managers
Diagrams for flat organization structures, tree parallelograms, vertical and horizontal flow org charts
Hand-drawn matrix organizational charts for creative scribbled org chart
Vector icons for various roles, project teams, and company departments
Creating your own organizational chart in PowerPoint allows you to get a unique-looking org chart and make flexible changes to reflect organizational fluctuations. Replacing, adding, or removing a position or department is a matter of fast shape modification.
How you can use this template:
Clearly present the organization management flows, company size, and personnel structure.
Introduce people managing a company in a personal way, adding a person's photograph or role icon only.
Company Roles and Departments PowerPoint Icons Collection
Need to illustrate various senior management roles or specific departments? Have a look at this presentation with Company Roles and Department Structure PPT icons.
There you will find 32 outlined symbols of company positions such as CEO, CFO, COO, CMO, HR head, or Chief Sales Officer. There are also icons representing corporate product-related departments, sales-related issues, back-office, and various product development steps.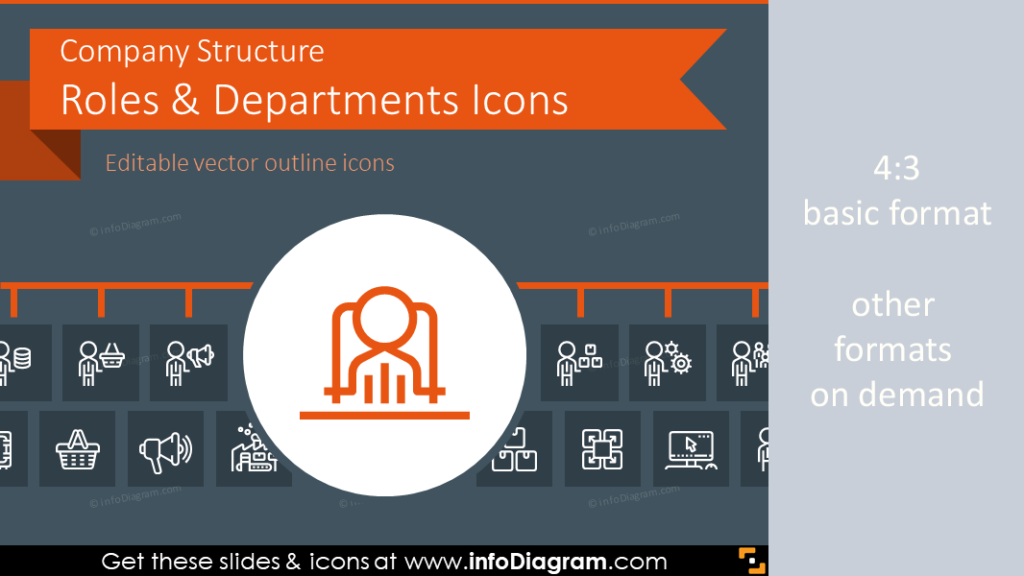 You can reuse the icons and organizational chart templates for presenting your company hierarchy, from the board through to the CEO and directors to specific department heads.
Feel free to explore these and reuse visualization ideas if they fit your work.
To Wrap Up
With help of those PowerPoint templates full of HR diagrams and role icons, you can enrich your existing slides or create a professional presentation from scratch.
Thanks to the PowerPoint format you can edit all content – change descriptions, expand diagrams, replace icons as you need etc.
Having such templates allows you to create your own do-it-yourself toolbox that can speed up your presentation preparation. You can also import those slides to Google Slides or Keynote presentation software if that is a presentation tool you use.
Resource: HR Diagrams and Templates for PowerPoint
Explore the complete set of presentation graphics about human resources and personnel development topics. If you find it useful you can download all the source illustrations for commercial use and free modifications. All these resources are available in the infoDiagram collection of presentation graphics:
HR Management Diagrams & Icons Decks Collection
Further inspiration for HR presentations
Explore more blog posts to find the right infographics and visuals for presenting your ideas:
To try out how these PPT diagrams work, get a free sample of PowerPoint diagrams and icons that you can use to play with this kind of presentation graphic.