It's no secret that company strategy needs to be understood clearly by all people so all activities and projects are aligned with it. Creating a presentation deck on strategic topics can be challenging, as you need to show the big picture in a catchy way that will resonate with all involved people. Substituting huge text blocks with easy-to-follow infographics will definitely help you to communicate various long-term and strategic planning topics.
We've put together this list of recommended PowerPoint slide decks that can be a source of graphical inspiration so you don't have to spend endless time searching for visuals to fit the presented concepts.
Explore slide decks presented here in Strategy and Long-term Planning PowerPoint Templates collection. You can get any deck or separate slide as an editable PPT file.
These seven templates will help you create high-quality presentations to convey strategic planning concepts:
Strategy Management Pillars
Vision & Mission Concepts
Business Recovery & Transformation Plan
Strategy Management Pillars Graphics
The metaphor of ancient columns is often used to present foundation elements holding the building. As you can see in the example below, the pillars of business excellence represent the core values and form the foundation to hold up the "roof" – the company vision.
Explore Strategy Management Pillars collection here that will help you create strategic planning slides faster.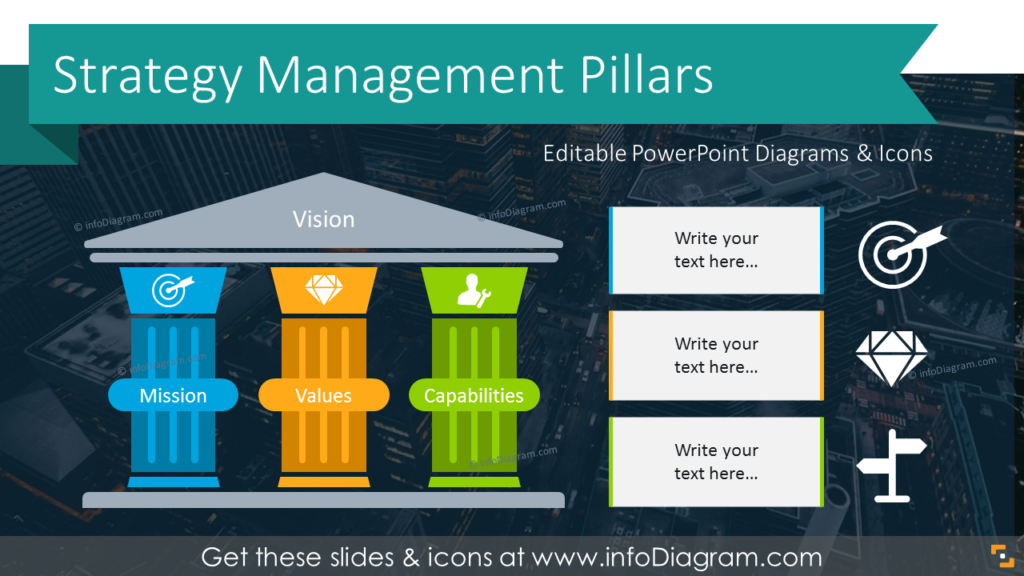 Pillars can be used to present the following concepts:
Foundation your company was built on and why you do what you do.
Company vision, mission, key values, and capabilities
Core principles of your business
Project plan essentials
Roadmap Diagram Templates for Sharing Long-term Vision and Strategic Planning Goals
A well-designed roadmap is like a GPS for your business or project. It's one of the best visual tools to make your vision and steps towards it clear for everyone on the team.
You can use roadmaps to show yearly or quarterly goals, steps to achieve, and phases of your project plan. Check Roadmap Diagram Templates collection here.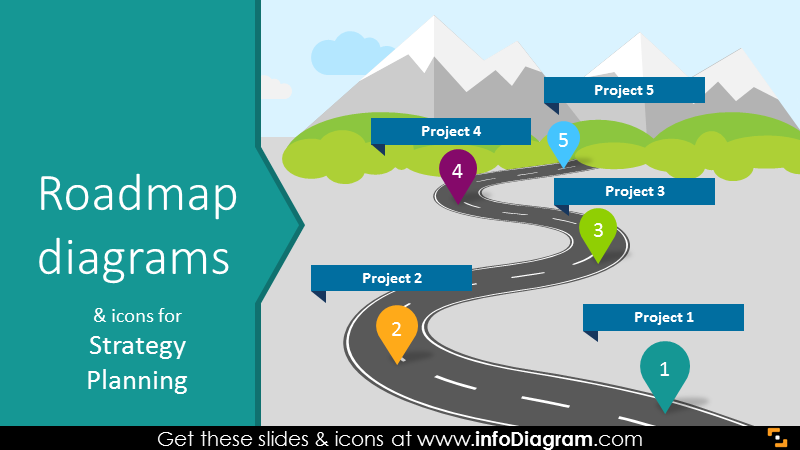 The roadmap is an effective visualization tool that can remind everyone of your vision and keep all team members on the right road. Check three ways to design a roadmap slide depending on the type of planning you present.
Roadmaps should not necessarily contain the "road" image, despite its name, they can also be visualized as a table. If you're discussing product development or release, sharing responsibilities within the team, or want to track projects across departments, such roadmap tables will help you illustrate these concepts in a more visual way.
Vision & Mission Presentation Diagrams
Besides current goals, strategies, and action plans, every company has a mission – a reason it exists and a vision – a striking statement clarifying the business's meaning and purpose for stakeholders.
To underline the importance of these statements and show how your company differs from others, try using more creative and fresh designs for such slides. If you'd like to save time, choose templates from our collection of slides for illustrating vision, mission, and values.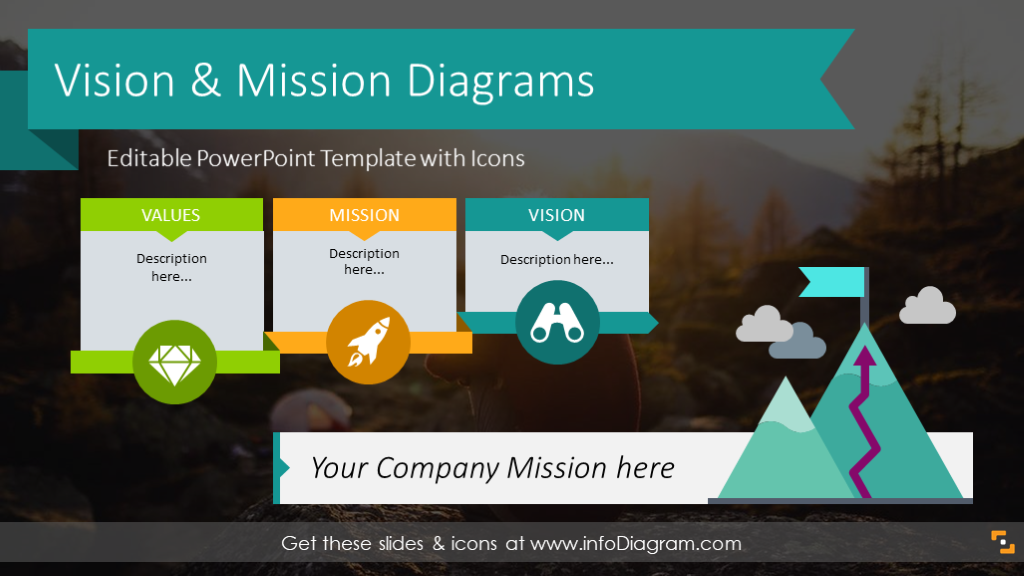 For more ideas on presenting various statements, see seven ideas for the quote slides.
Business Model Canvas Template
The Business Model Canvas framework is a strategic management template used for describing or altering existing business models and developing new ones. It allows seeing a big picture of core activities, resources, and partners.
BMC is widely used by companies and startups to analyze their strategy and apply the lean startup approach. Visualizing it without cluttering the slide will help you keep the audience's attention and convey your ideas clearly.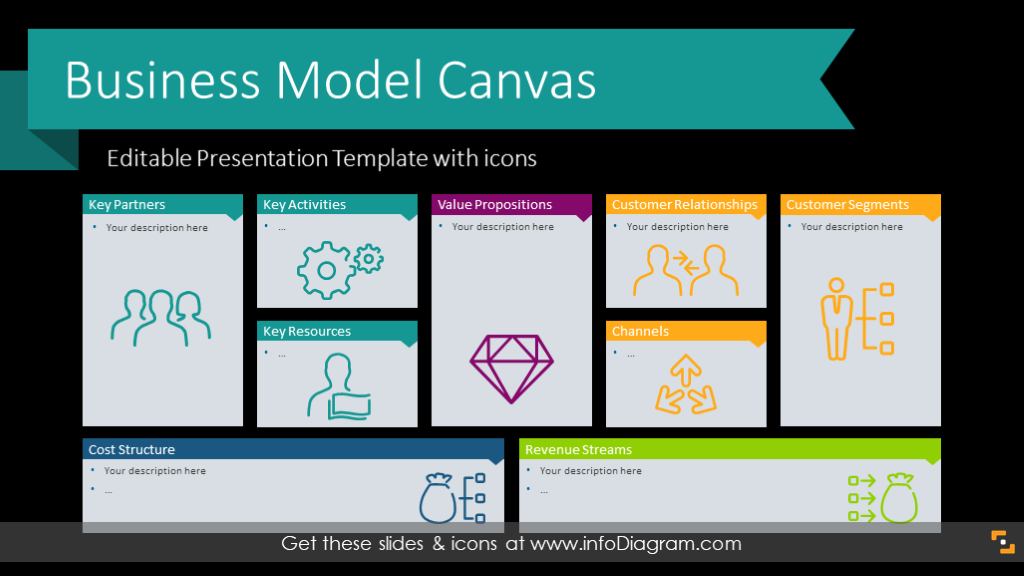 Go-To-Market Strategy Plan Framework
The go-to-market strategy is the tactical action plan that drafts the necessary steps to deliver a unique value proposition to customers and achieve a competitive advantage in a new market. It can be applied to pretty much anything, from launching new products and services, to re-launching your company or brand.
Having a concisely presented go-to-market strategy can help a lot while explaining it to the management board or stakeholders because such documents usually contain lots of content and numeric data. Get inspired by Go To Market Strategy Plan graphics covering all elements of GTM.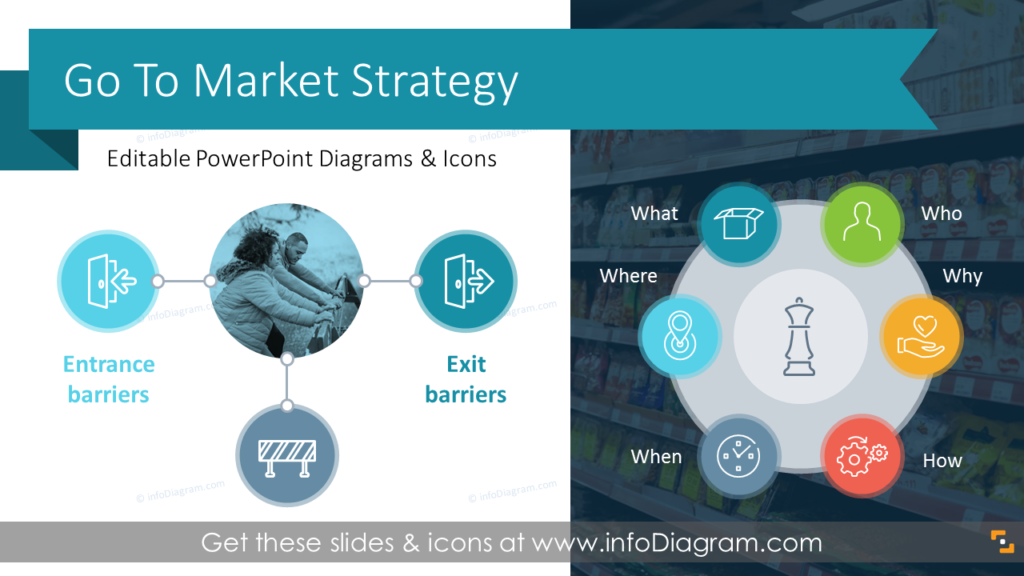 You can use these graphics to:
Design a framework of your go-to-market strategy including all important elements on one slide
Illustrate total available, serviceable available & obtainable market volume
Describe the competitive landscape comparing the biggest market players
Show entrance and exit barriers
Visualize your targeted customer profile
Present financial highlights
Illustrate key milestones timeline of a rollout to the new marketplace
Describe the key success factor of your expansion strategy
Business Recovery Plan Graphics Template
If you are working on a business recovery or transformation plan, illustrating key business challenges, trends, and your crisis management strategy in a clear, informative manner will help you be heard.
You can reuse and adapt our collection of Post-Pandemic Business Recovery Plan diagrams to present your strategy on how to deal with any sudden emergency situation, causing massive business disruption, and adapt to a new business context.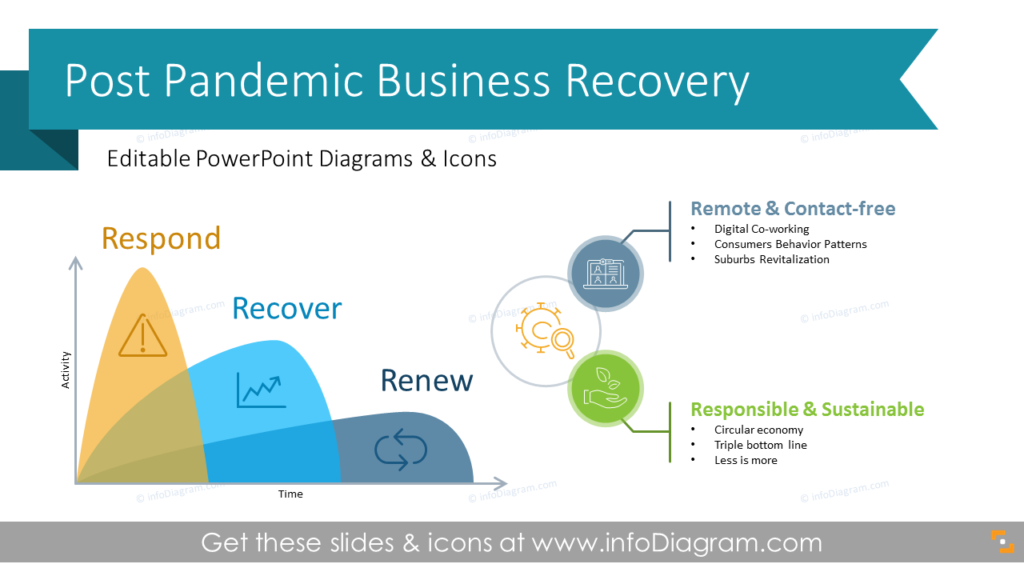 Slides in this deck can be used to:
Describe phases of business reaction
Visualize methods how to reshape the ways of working for the future
Illustrate your performance gap analysis
Present contingency plan for the response phase
Visualize your digitalization and automatization strategies
Cover responsibility and sustainability aspects
Illustrate the circular economy model
Explain "remotization" areas
Summarize digital co-working success elements
To outline the next steps after such a strategic planning meeting, explore ideas on illustrating the concept of follow-up with one symbol.
Gap Analysis Types and Tools Presentation
A gap analysis is a business assessment methodology that compares actual performance and results with what was expected. It is useful when you need to evaluate current results and the necessary improvement efforts to close the gap and reach the desired performance,
Check our Gap Analysis Diagrams deck which includes templates to show the concept of gap analysis, its benefits and types, brand perception & customer experience gaps, efficiency gap benchmark, and more.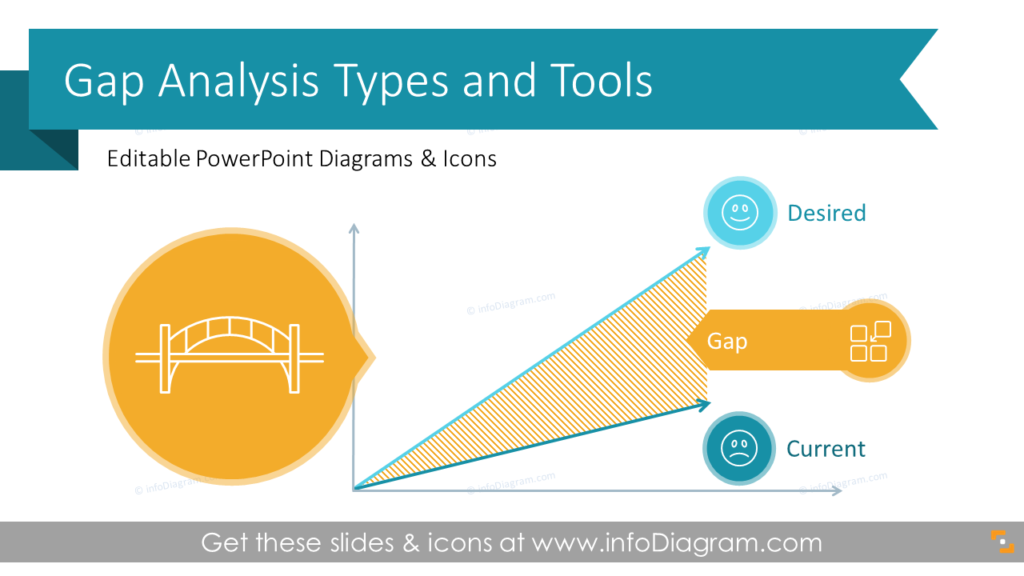 If you are looking for general graphics to help your audience connect the dots between concepts or ideas, check bridge graphics design ideas.
Summary of the best visual metaphors for strategic planning
One of the most common presentation design challenges is how to paint a big picture to convey a complex message. Infographics and visuals can help you a lot with this. They don't have to be overcomplicated, simple diagrams will do. You can see from the examples that it's enough to choose a good visual metaphor: pillars, road, a mountain, gap & a bridge, target bullseye, or DNA helix.
Pre-designed PowerPoint decks full of various diagrams and icons, will help you save time on designing those infographics. Most of the slide decks in this blog also contain business-relevant content, which you can reuse for your presentations.
Designer's tip: When designing your slides, remember about consistency rules if you're mixing slides from two or more PowerPoint files or other sources. It will help to make your presentation more professional-looking and therefore it will be easier to make an impact on the audience you're talking to.
Resources: PowerPoint Templates for Strategic Planning Presentations
Explore the complete presentation graphics about long-term planning and business strategies topics. All templates mentioned above, and many more, are available in the infoDiagram collection:
Strategic and Long-term Planning PowerPoint Templates
More inspiration for strategic planning presentations
You can find more design ideas and examples of presenting strategic planning topics on our blog.