Do you have an upcoming marketing strategy presentation to prepare? The area of marketing and promotion incorporates various activities that you may need to present. Using PowerPoint infographics instead of text blocks will help to translate your ideas into visual form and illustrate marketing topics better.
Putting together a slide deck from scratch, especially one containing much information and data, can be quite exhausting if you don't do such presentations often. Check out this list of recommended PowerPoint templates that can be a source of graphical inspiration for your next marketing strategy presentation.
You can get any deck presented here as an editable file. Simply click on the pictures below to see and download the source illustrations. Check the full collection of Marketing Presentation PowerPoint Templates here.
Here are seven slide collections that will help you create professional and interactive presentations to communicate marketing strategy, research, and planning concepts:
Marketing strategy plan
Market research and analysis
Customer journey map
Buyer personas and avatars
Corporate social responsibility
Corporate brand identity models
Marketing mix framework
Marketing Strategy Plan Presentation
Articulating big ideas and visions can be tough. Half of the job is to prepare a pitch, and another is to design the slides that will support it, and not distract from what you're saying.
If you need to prepare a comprehensive marketing strategy presentation, including marketing objectives, analysis, detailed plan, market evaluation research, risks, product strategy, and planned projects, Marketing Strategy Plan Presentation has it all.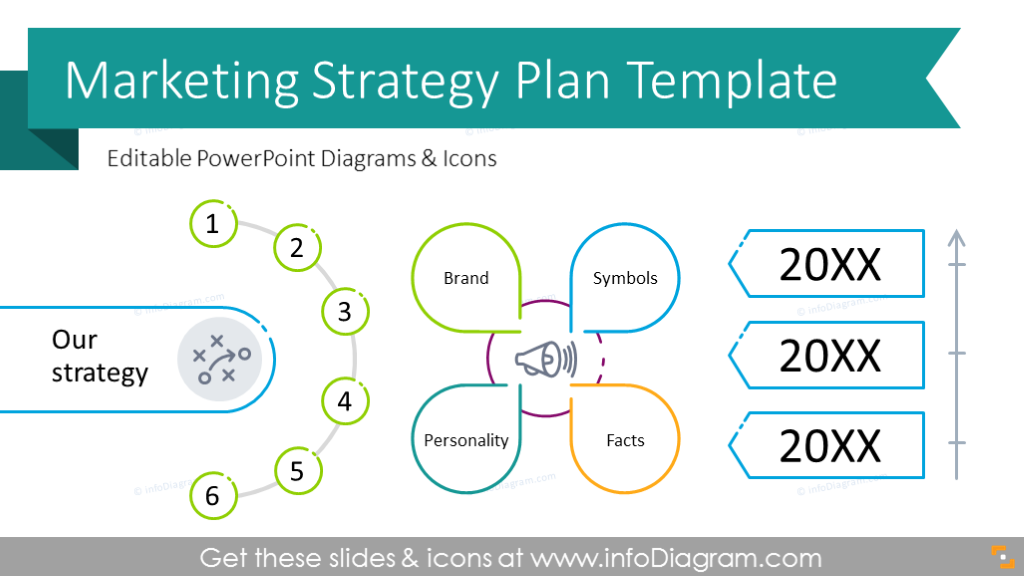 You can use these infographics to:
Share your marketing objectives overview
Present company vision, mission, and values
Introduce sales persona, market map, and analyses e.g. SWOT, PESTEL, or marketing mix frameworks
Describe offered products or services in detail
Visualize marketing projects plan
Define what is your branding strategy and value proposition
Estimate and present KPIs you want to reach
Market Analysis Presentation Diagrams
Understanding your target group, market size, and trends that exist in your competitive market landscape is crucial for setting the right marketing strategy and activities, and the whole company's performance as well.
Market Analysis slides collection contains templates for illustrating market research reports, key market facts, ideal customer profile, market size, trends and drives, market size and potential estimation, success factors for market entrance, and competitive landscape: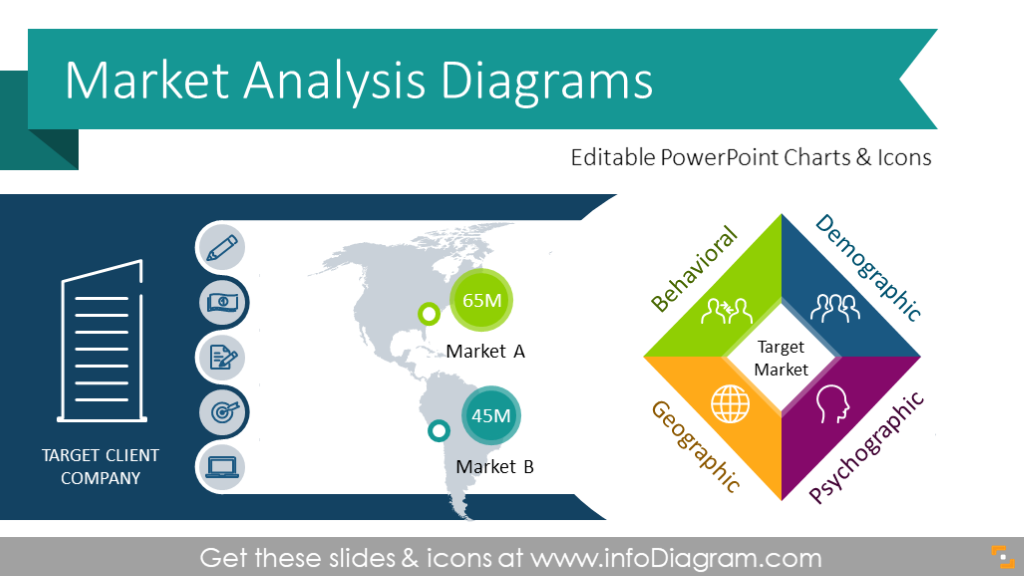 See visual ideas on how to show marketing or business analysis with one symbol if you don't have much space left on a slide and you want to illustrate those specific ideas.
Customer Experience Journey Graphics
A customer journey map is a visual illustration of the process a user goes through to achieve a goal with your company. It's used to visualize the customer's interaction stages with an organization and see the big picture clearly.
Using visuals for the user experience analysis process can help reduce the number of slides by cutting text, and organizing information in an easy-to-read way.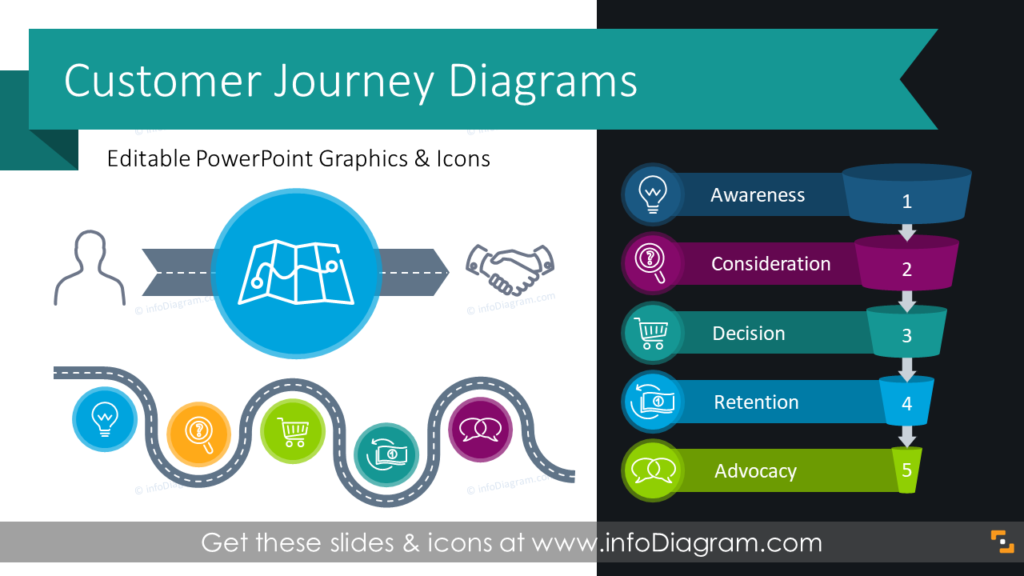 Slides in the Customer Experience Journey deck can be used to:
Define what a customer journey map is
Present customer journey line roadmap with touchpoints
Visualize the online user journey experience with a steps roadmap
Create a pyramid diagram of customer journey levels
Show B2B client journey funnel diagram example with notes aside and elegant outline symbols.
Express customer experience goals with a readable table template
Compare the client's and company's goals in the customer journey
Check out our interview with an expert in the customer experience field on why using visual aids is important in CX measurement, analysis, and improvement.
If you want to include the analysis of customer satisfaction and other loyalty metrics, NPS dashboards are a great visual tool for that.
Marketing Buyer Persona Template
The buyer or sales persona is a semi-fictional and generalized representation of your ideal client. Visualizing customers' portraits will help you and your team to understand their needs better and create the most valuable product. You may also discover many characteristics you were not thinking about after you put the buyer persona into visual form.
The Buyer Persona diagrams collection contains layouts for illustrating customer profiles for marketing and sales presentations: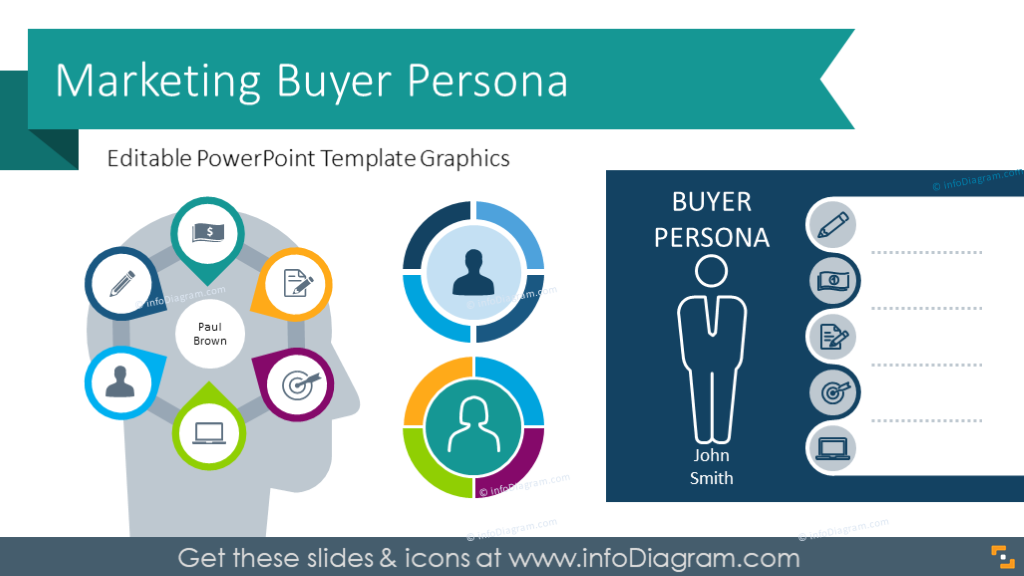 Later you can also print those slides out to always remind your team who your target customer is and to use them as a reference when planning marketing and promotion activities.
Corporate Social Responsibility Diagrams
If you are designing a new CSR strategy for your company, or want to re-evaluate the current one and take things ahead with it, diagrams are a great way to visualize all corporate social responsibility initiatives and concepts you have in mind.
The collection of Corporate Social Responsibility visuals will be handy if you are planning to present various CSR models, e.g. Carroll's model, areas, examples of initiatives, values, and elements and want to do this in an innovative and engaging manner.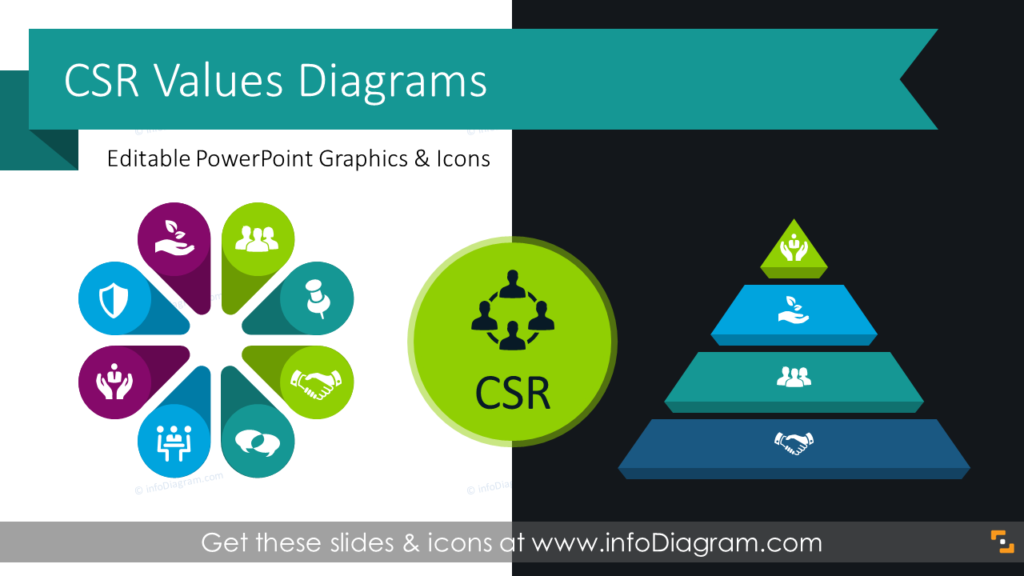 Corporate Brand Identity Models Graphics
Just like your personal identity makes you uniquely yourself, brand identity is the special sauce of any business that sets it apart from every other company. Using powerful visuals will help you to support your ideas, and branding can not be understated.
Corporate Branding diagrams will help you explain your branding and how it is connected with the overall strategy in a fresh, appealing way.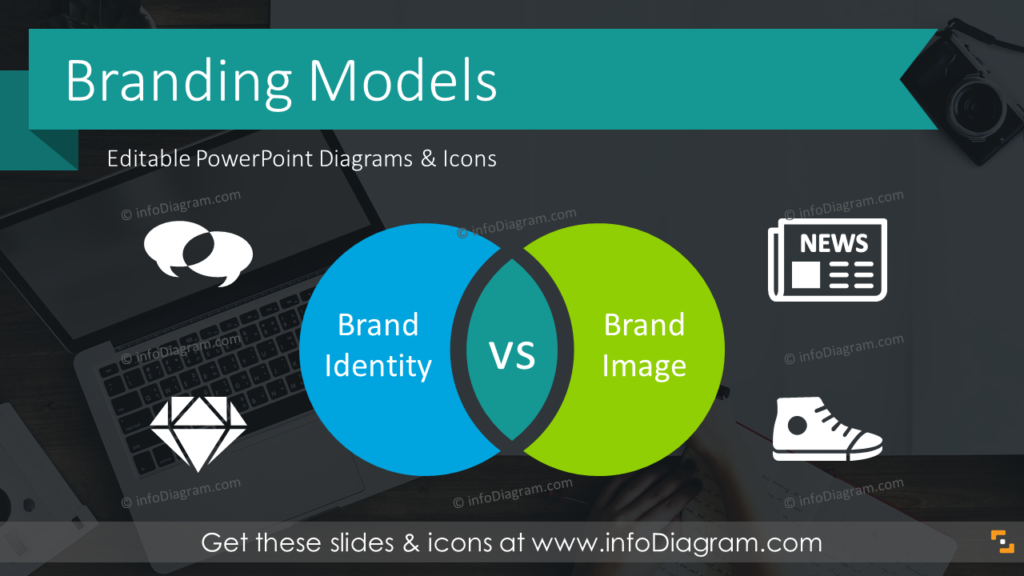 Why use Corporate Branding diagrams?
Clearly present the direction towards which the company is headed
Break down brand identity components, such as trust, purpose, design, value, logo, advertising, etc
Make sure your team understands all concepts of the brand identity
Show the connection between corporate branding and the company's strategy in an easy-to-follow way
Express brand awareness objectives
List the ways of new brand identity implementation
Marketing Mix Diagram PPT Layouts
The marketing mix or so-called 4P formula is a good place to start when you are thinking through your plans for a product or service. In other words, it's a set of marketing tools that the company uses to pursue its marketing objectives in the target market.
The Marketing Mix template is suitable for marketing and strategy planning presentations. It contains diagrams representing the whole framework and 4 P's of marketing separately: Product, Price, Place, and Promotion.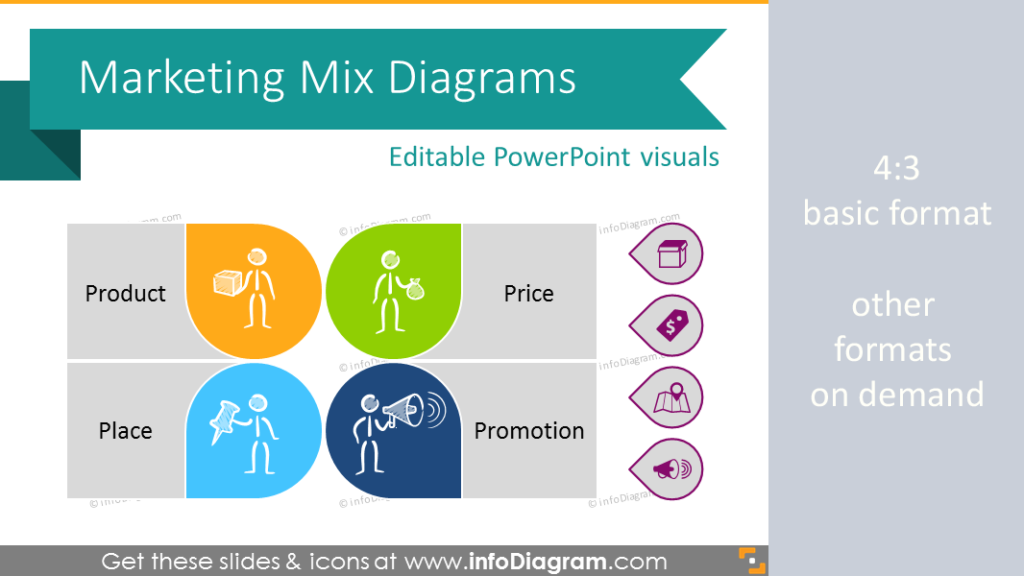 Some marketers suggest that in the current reality the model can be extended to the 7 P's, the fresh ones include Process, People, and Physical Evidence. Have look at our ultimate infographics bundle, where you can find layouts to illustrate such an amount of elements.
Sum up of the essential decks for marketing strategy presentation
If you catch yourself spending tons of time looking for the right templates, especially if you don't create slides on a daily bases, pre-designed graphics can be handy. They don't have to be very sophisticated with intensive animations, simplicity is the key here.
Most of the slide decks in this blog also include business-relevant content, which you can reuse in your work.
To improve your presentation even further, check our tips and tutorials which will help you dace time and create stunning slides.
Resources: PowerPoint Decks to Use for Marketing Strategy Presentation
Explore the set of presentation graphics on marketing strategy, analyses, and planning topics. All templates mentioned above, and many more, are available in the infoDiagram collection:
Marketing Presentation PowerPoint Templates
Further inspiration
You can find more ideas and slide examples of presenting marketing topics on our blog.