Have you been wondering how you can make your company's business update presentation more engaging for your employees? You can find a solution in an all-hands meeting presentation. All-hands meetings are a valuable opportunity for employees to learn about the latest company news, updates, and initiatives. They also provide a chance for employees to connect and build relationships.
Let me show you a few examples of inspiring and engaging slides for an effective all-hands meeting presentation:
starting an all-hands meeting and introducing the rules of conduct for effective teamwork
presenting the best employers' ranking
visualizing the initiatives of the new project
presenting the employee of a month
sharing relevant business updates
illustrating company strategy and transformation processes
Get all the graphics presented here – click on the slide pictures to see and download the source illustration. Check the full All-Hands Company Meeting PPT Template.
What is the all-hands meeting and why do you need it in your company?
An all-hands meeting is a company-wide meeting where employees from all levels and departments come together to learn about the latest company news and updates, hear from leadership, and celebrate successes. All-hand meetings are typically held regularly, such as monthly or quarterly.
Effective all-hands meeting presentations are informative, engaging, and inspiring. They should provide employees with a clear understanding of the company's progress, goals, and direction. They should also be an opportunity for employees to connect with their colleagues and feel inspired about their work.
In the next section, we will discuss some tips for creating an effective all-hands meeting presentation.
Introducing the Rules of Conducts Visually on PPT slide
Presenting the rules of the meeting is important for many reasons:
It sets the tone for the presentation and lets the audience know what to expect.
It helps to prevent disruptive behavior.
It creates a more inclusive and welcoming environment for everyone.
So let's have a look at the slide below which presents a few rules to follow during the meeting. It's a short list but the bullet points or numbers were replaced with a graphical representation. Each rule is visualized with an adequate icon and color-coded.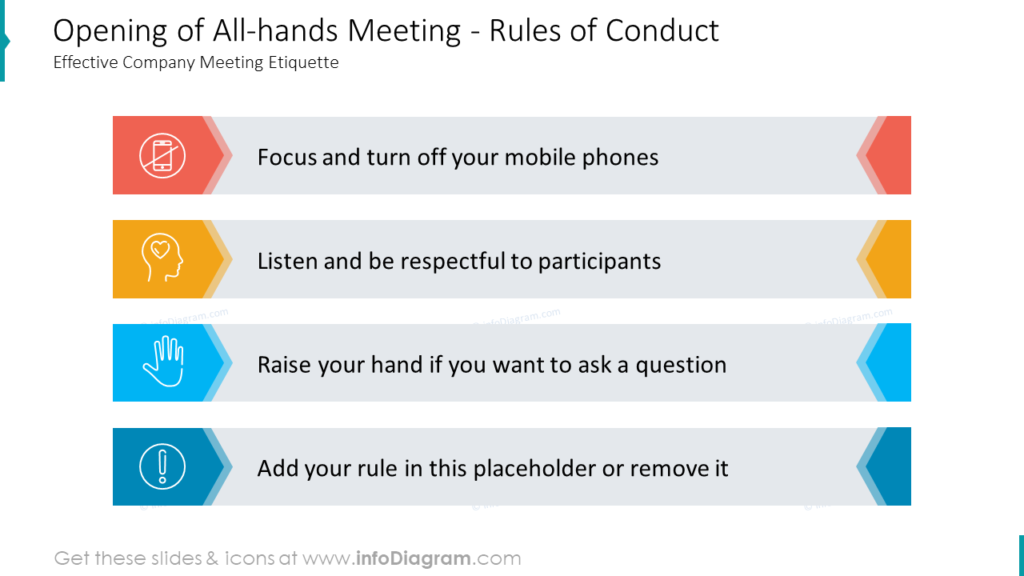 Examples of such visual representation by a graphical symbol can be:
icon of a crossed-out mobile phone for a rule: Focus and turn off your mobile phones
icon of a head with a heart shape inside for a rule: Listen and be respectful to participants
icon of a palm for a rule: Raise your hand if you want to ask a question
Rules presented in that way are much easier to remember by the audience than a typical hard-to-read bullet point list. Check our ultimate ideas list for abstract business concepts if you're looking for inspiration on illustrating such abstract ideas.
Presenting the Best Employers Ranking
Employees can be more likely engaged and motivated when they feel proud to work for a company that is recognized as a great employer. Presenting the best employers' ranking in an all-hands meeting presentation is a great opportunity to show employees that their company is valued and respected.
Below is an example of how you can visualize such a slide.
pic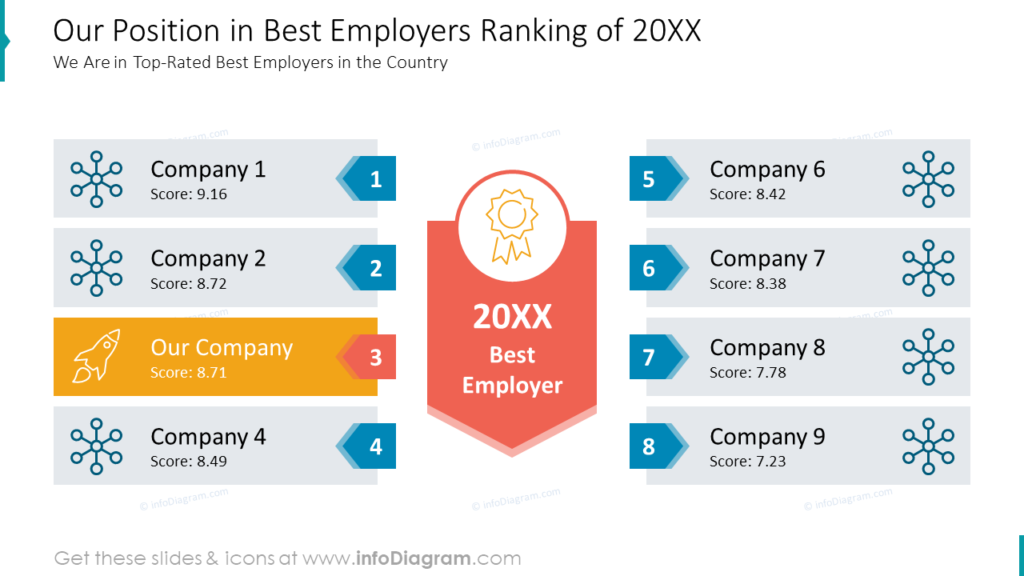 One of a slide we created for the all-hands meeting presentation shows the list of 8 best companies in the industry. We highlighted here position nr 3 but of course, with editable PowerPoint graphics, one can easily mark other positions – ideally if you make it to nr 1 position.
The slide is divided into three columns. Those on the left and right sides are dedicated to companies' names and in the middle, among the lists is located the big ribbon with a title and a year. Each company is presented by the number in ranking and a score and our company is marked with a vivid color to make it easy to identify by the audience.
Visualizing the New Projects Initiatives
By visualizing new projects and initiatives, you can show your employees how the work they are doing fits into the overall picture. Employees can feel more connected to the company's mission and see the value of their work.
So let's see on the slide below how it can be visualized graphically.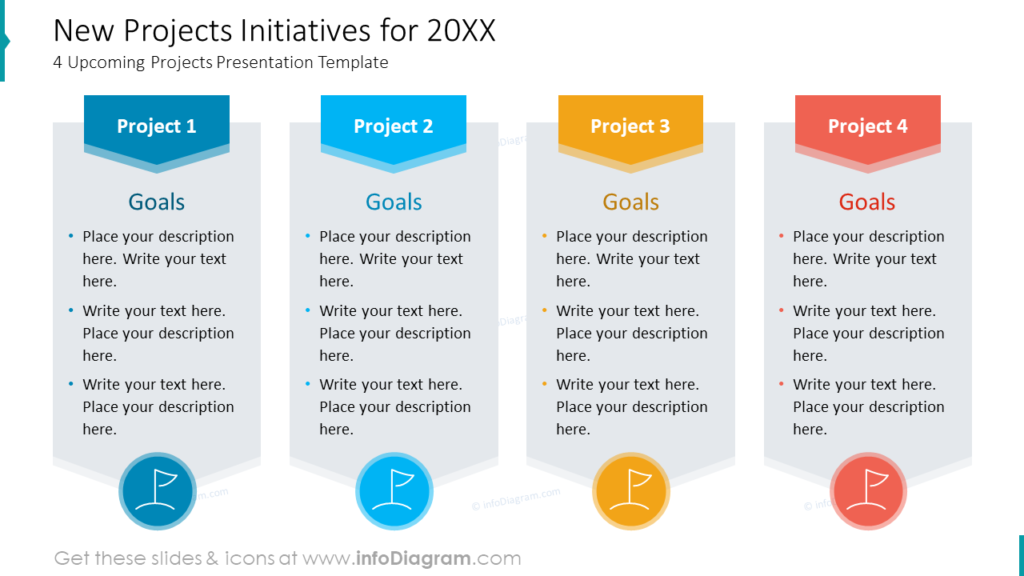 We created a slide with a template for the 4 new projects. Each of them is placed on a chevron with a special place for the name, lists of goals, and representative icons. To make the slide more attractive, each project has its own color. It makes the slide readable at a glance.
If you want to focus more on the upcoming initiatives, check our project planning decks list.
Presenting an Employee of the Month
Publicly recognizing and rewarding employee achievements is a great way to boost morale and motivation in a company. When employees see that their hard work is appreciated, they might be more likely to continue to go the extra mile.
We created an example of a slide with an employee of the month.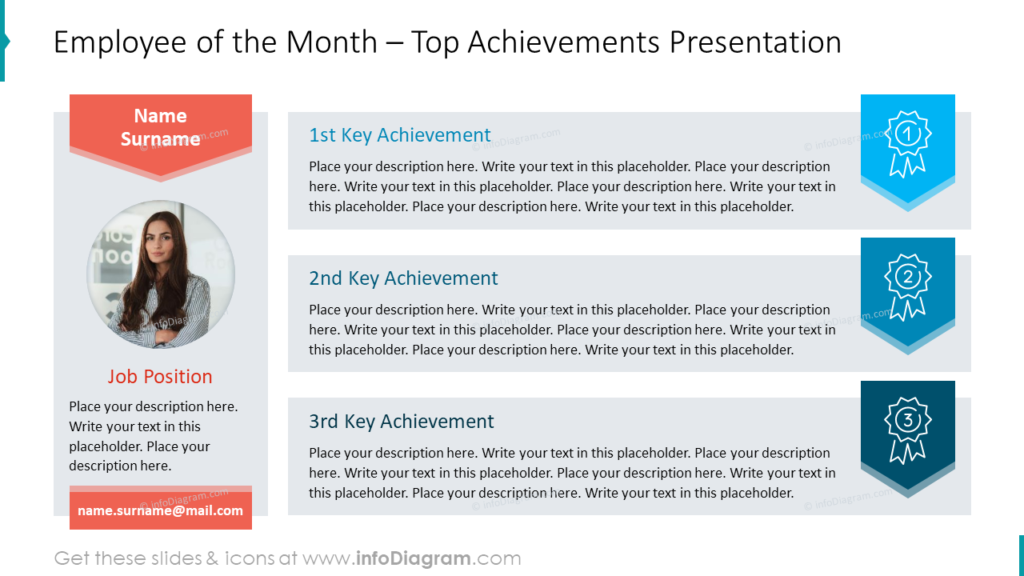 It includes the frame for the personal presentation: name, surname, picture, job position, a short introduction of a person, and email address. It's marked clearly, by a strong color (in our case it's red). Most of the space on a slide is dedicated to the key achievements. They are marked by more calm colors (like shades of blue) but every achievement has the icon of a ribbon and a number.
How to Create an Effective All-hands Meeting Presentation?
Keep in mind that a well-prepared all-hands meeting presentation can help you capture the attention of employees, make information more memorable, and inspire a sense of excitement and engagement. It's worth following a few simple rules:
Have a clear purpose. What do you want your employees to learn or take away from each slide? Once you know your purpose, you can tailor your content and deliver it accordingly.
Be concise. Set the palette of the colors for your presentation and use it consequently. Too many colors can bring chaos and lead to eyesight's tired eyes.
Use visual aids. Visuals help to break up your text, make your presentation more engaging, and help your employees understand and retain information more effectively. It's a good practice to replace bullet points with shapes and to visualize concepts with simple icons.
Tell stories. Stories are a great way to connect with your audience and make your presentation more memorable. Share stories about your company, or your team (eg. the employee of the month, or ranking of best employers), to illustrate your points and make your presentation more engaging.
I'm sure that with these tips you can create an inspiring all-hands meeting presentation 🙂 Share your tips in the comments!
Resource: All-Hands Meeting Company Presentation
In the examples above I used the graphics from a PowerPoint template with All-hands Meeting concept visuals. You can find all source slides in the infoDiagram collection of presentation graphics, and many more layout examples here:
All Hands Company Meeting PPT Presentation
You can extend your company meetings with a Town Hall Meeting presentation template right here.
Continue Exploring
Looking for more inspiration? Check our resources:
Follow our YouTube channel and subscribe to the newsletter for more design tips and slide inspiration.