Creating a value of some kind is the essence of every business. It can have a form of a specific product manufactured by a production company or a service that provides an added value to our life. It can be also an abstract value such as know-how created by a consulting firm or wisdom taught by an educational institution. However, I see that people are often are having hard times to illustrate such value in their marketing and sales presentations. How to express a general concept of "added business value" in your presentation?
I'd like to share a few ideas for making a presentation slide where you talk about the values your company creates. I'd suggest you use a simple picture, an icon that your audience will connect to the value you provide.
Here're some slide examples:

Visual metaphors for Added Value
Illustrate added value symbol – by showing something precious, a diamond symbol or a pearl picture perhaps. Something we use as a label for valuable things – it can be also a certification stamp symbol or a ribbon icon.
Check icon ideas from flat icons collection – suitable for style-neutral graphics fitting to any presentation style: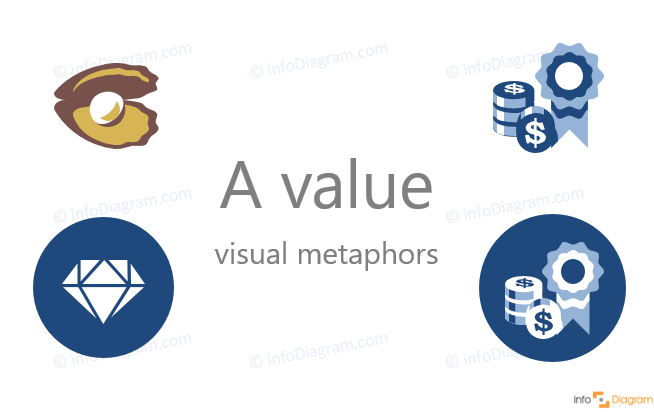 Or dare to be different, get informal and go for a creative hand drawn symbol. Such a style is more personal and unique: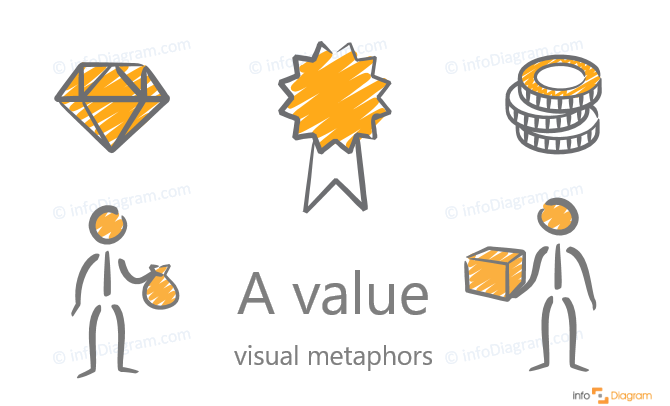 Do you have another idea you want to illustrate in your document?
Let me know in the comments below. I'd love to hear back from you.
---
Got stuck how to show something on a slide? Here's help. Share your visualization challenge in comments and we'll propose ideas on how you can illustrate your concept in Your PowerPoint presentation texts or charts.
---
Further reading
Check more of our articles on designing creative presentations. See all articles Showing a Business Concept in a Presentation or explore specific topics:
Further Inspirations
Need to show another concept in a presentation? See how to illustrate other business concepts – Strategy, Balance, Deadline and more.
---
Check our Business Concepts Visualisation List blog:
One picture to rule them – Visual Metaphors Ideas
---
Stay updated
Get new presentation ideas and updates sent directly to you! Plus, if you sign up for our free newsletter now, you'll receive a Creative Slide Design Guide with our handcrafted freebie – hand drawn icons you can start using right now.