Paving the way toward progress is something every salesperson or marketer worth their salt is capable of discussing. You can talk about it, or how your company hopes to achieve it. The struggle comes with deciding how to best graphically represent innovation and novelty in your presentations. What comes to mind when you hear the world innovation? If you're uncertain, we can help!
Novelty Visuals Metaphors for Presenting Innovation
When we think of innovation, our minds immediately turn to the scientific developments made in recent years. Space rocket or satellite, modern drone or wind energy tower, and scientific tool diagrams all tie into the innovations allowed by technology. Many entities like Google and others use similar imagery to represent their labs. They use things like chemistry test tubes to represent innovation and development. If your innovation or audience falls outside the range of folks who would appreciate or prefer scientific metaphors for innovation, light bulbs or stars can drive home thoughts of bright, new ideas or aspire toward distant goals.
Modern Style, Neutral Symbols
Our sleek, modern collection is designed with simplicity in mind. We want to add to your impact without distracting from the clarity of your message. In particular, our Flat PowerPoint Icons collection contains drones and rockets symbols, beakers, satellites and wind turbines as well as the general "new idea" icons like light bulbs and stars.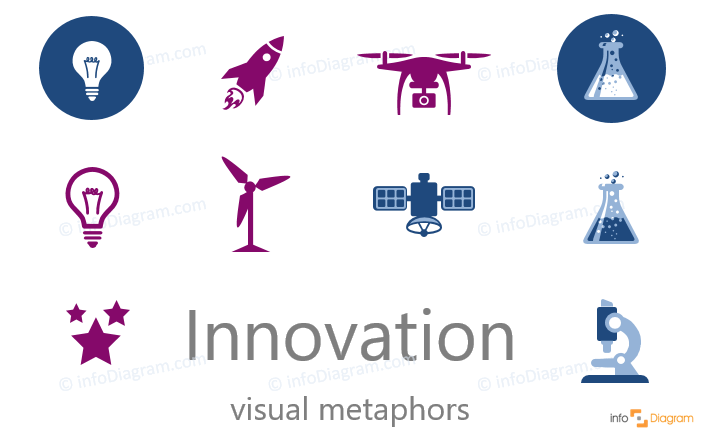 Creative Style, Clever Icons
Our hand drawn scribble symbols and handcrafted Sketchnoting icons are sketch-inspired and are perfect if you prefer a more creative look to your visual metaphors for presenting innovation idea. Like our flat style collection, our scribble sets conjure the same thoughts of bright ideas, bold new concepts, and scientific progress without sacrificing playfulness and will appeal to the creativity of your intended audience. The scribbled light bulb, novelty stars clipart or a chemist figure designs are perfect for your latest strategy, product release, or campaign launch presentation to drive home the idea that you're bringing to light novel, fresh ideas or new projects.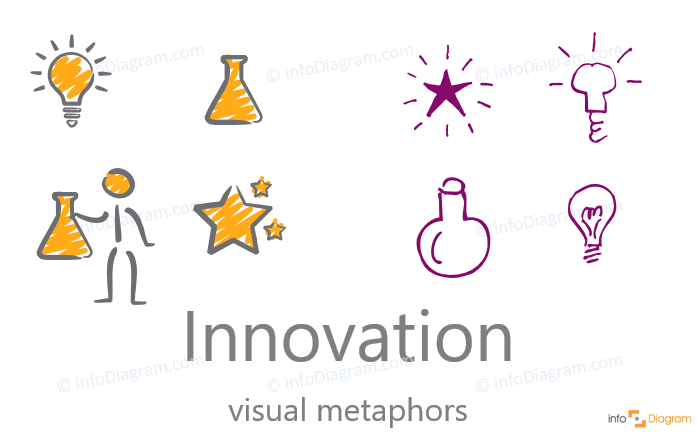 Need to Show Another Concept?
Whether your team is more responsive to sleek, modern imagery or creative, the energetic enthusiasm you can bring your innovative concepts to life with simple iconography. If you want something specific to represent a particular campaign, launch, or for an internal event? Let us know! If we don't have something which will suit your needs, we love design challenges and look forward to the opportunity to bring your presentation to the next level. In most cases, we don't need a long time to create anything new, but can instead suggest new ways to utilize images in our existing diagram collections.
I'd love to hear what ideas you will be illustrating in your upcoming presentations and if any of these slide making suggestions were helpful.
We mean it; if you're stuck on something we'd love to help. Share your visualization challenge in comments and we'll propose ideas of how you can illustrate your concept in your PowerPoint presentation text or charts.
Further Reading
Need more resources for designing creative, effective presentations? See all articles Showing a Business Concept in a Presentation or explore specific topics:
More Inspirations
Need to show another concept in a presentation? See how to illustrate other business concepts – Values, Strategy, Investment and more.
---
Check our Business Concepts Visualisation List blog:
One picture to rule them – Visual Metaphors Ideas
---
Stay updated
Get new presentation ideas and updates sent directly to you! Plus, if you sign up for our free newsletter now, you'll receive a Creative slide design guide for free, as well as hand drawn shapes you can start using right now.