Is a security, safety or stability topic of your speech? Do you need to present security idea in your document? Whether this concept is only a part of your presentation topics or the whole talk is about security business, you can easily make such slides more attractive by adding a graphical symbol representing the security concept.
So how to illustrate the safety or security concept in PowerPoint presentation, blog or other written documents? Especially if you don't have much space left?
You can use pictogram that is associated with the notion of stability and security.
Visual Metaphors for Security and Stability – Modern and Neutral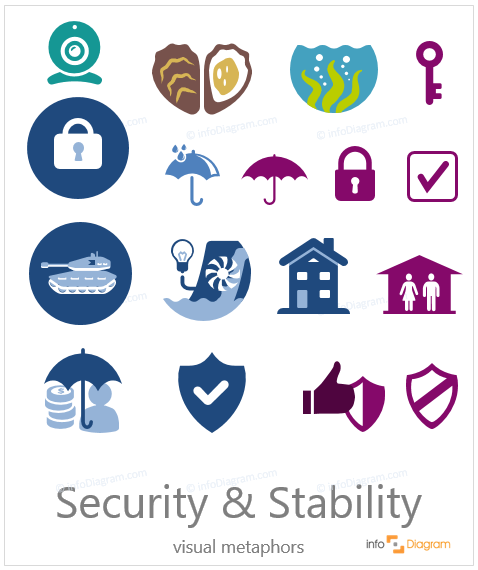 Here you can see symbol examples from our style neutral flat icons collection. We want to add to your impact without distracting from the clarity of your message. In particular, our Flat PowerPoint Icons collection contains:
If you look for more atypical style, consider more sketchy look:
Creative Visual Metaphors for showing Security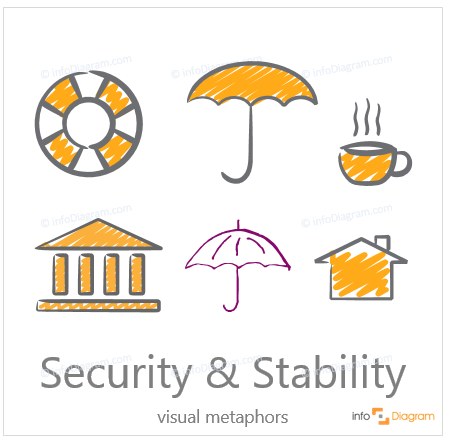 Our hand drawn scribble symbols are more suitable if you prefer a more creative look to your security visual metaphors. Here are operations icons you can use in a presentation:
Have another business concept to illustrate?
Share your visualization challenge in comments and we'll propose ideas of how you can illustrate your concept in your PowerPoint presentation text or charts.
Further Reading
Need more resources for designing creative, effective presentations? See all articles Showing a Business Concept in a Presentation or explore specific topics:
Further Inspirations
Need to show another concept in a presentation? See how to illustrate other business concepts  – Strategy, Risk, Investment, Deadline and more.
---
Check our Business Concepts Visualisation List blog:
One picture to rule them – Visual Metaphors Ideas
---
Want to be notified when we make an announcement? Never miss out on creative presentation graphics and stay informed about our latest updates and news. We'll also send you a Creative slide design guide with FREE hand drawn shapes for you to begin using right away!