If you're working on market research or just planning the future of your product or company, you often deal with a business analysis of some kind.
It can be within a qualitative analysis like 360-degree feedback surveys, SWOT or PEST analysis or opinion checking. Or if it involved more data measuring then we talk about quantitative analysis. I'm not going to write about data visualization here (but you can check some examples in this post "How to present KPI data in a presentation"). For now, I'd like to focus on illustrating analysis concept in general.
Let's say a business analysis is the first step of your project. And you want to represent it by a single picture, so your audience would quickly create a mnemonic association and remember better your presentation.
What visual metaphors you can use to present a business analysis idea on a slide (or any kind of document)? Depending on your presentation context, consider those two styles:
Modern Style, Neutral Symbols
Those are icons designed with simplicity in mind. Such symbols can add an impact to your topic without distracting from the clarity of your message. Below are some flat icon suggestions you can use:
Creative Style, Clever Icons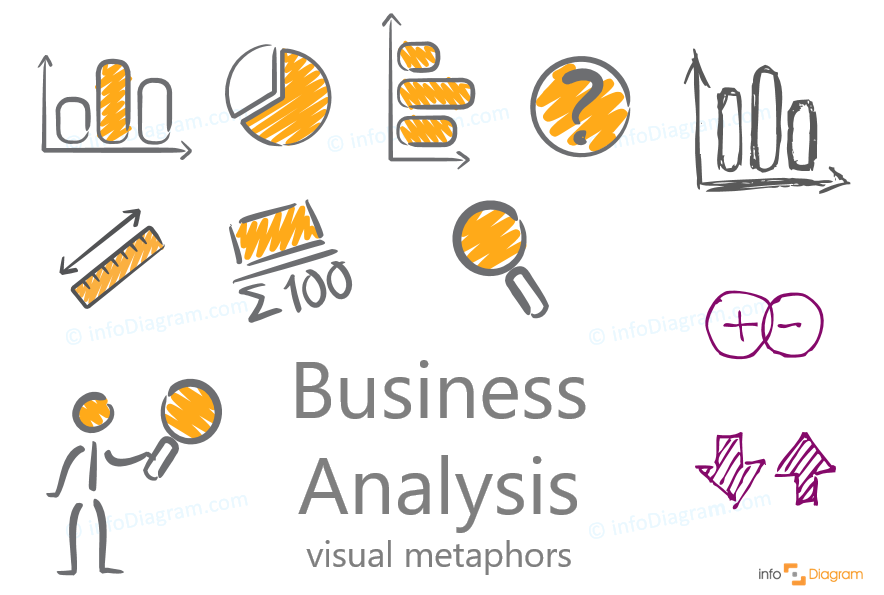 Next, to the style of neutral icons, you can consider hand drawn scribble symbols and handcrafted Sketchnoting icons. Those are sketch-inspired graphical symbols that are perfect for adding a creative look to your visual metaphors. Like the flat style collection, the scribble icon set contains the same thoughts of bright ideas, bold new concepts, and scientific progress without sacrificing playfulness and will appeal to the creativity of your intended audience. Symbols you can use include:
Use iconographics to give your slides new life
Whether your team is more responsive to a modern imagery or more unique creative enthusiasm you can bring your innovative concepts to life with simple iconographics.
If you want something specific to represent a particular campaign, launch, or for an internal event? Let us know!
If we don't have something which will suit your needs, we love design challenges and look forward to the opportunity to bring your presentation to the next level. We'd love to hear what ideas you will be illustrating in your upcoming presentations and if any of these slide making suggestions were helpful.
More concept icons ideas
Need to show another concept in a presentation? Operations, Strategy, Flexibility, Growth you name it.
---
Check our ultimate Concept Visualization List blog post
---
Further Reading
Need more resources for designing creative, effective presentations? See all articles Showing a Business Concept in a Presentation or explore specific topics:
Get new presentation ideas and updates sent directly to you! Plus, if you sign up for our free newsletter now, you'll receive a Creative slide design guide for free, as well as hand-drawn shapes you can start using right now.