Getting ready for next year planning? Here're a few tips and graphic tools you can use for making engaging visual plans using PowerPoint only. Check updated set of editable calendar tables and hand drawn time plan icons.
We've designed a set of predesigned 2017 calendars as editable powerpoint tables and icons.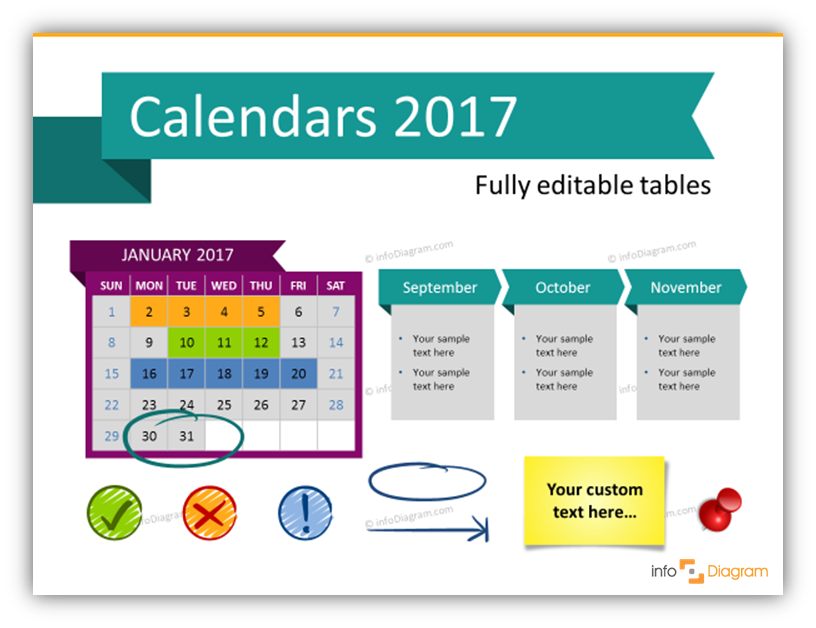 What's inside calendar presentation graphics?
As you can see on overview picture above, the 2017 Calendars Timeline Graphics contains sets of hand drawn calendar markers, tables and timeline infographics you can adapt to your plans. Specifically, the presentation set includes:
The 2017 Calendars Template has two versions:

The format is editable set of vector shapes. You can change colors, texts, shapes using only built-in PowerPoint tools.
Getting 1 calendar slide, 10 or all 2017 Calendar presentation graphics?
If you'd like to use our 2017 calendars timeline graphics, there are several ways you can do that. Choose any single slide or purchase it on a pay-as-you go:
More ideas for presentation graphics
Check out these articles if you search for more inspiration how to visualize your presentation:
Stay updated about new presentation ideas
Get on our newsletter and never miss an announcement. You'll stay informed about all of our new updates. Plus, if you sign in for our newsletter you'll get a Creative slide design guide with free hand drawn shapes, absolutely free!